How to transfer your environment?
Transfer your Cloud Environment
If you wish to move your Cloud environment to another UKHost4u Cloud Solutions account you can use the environment transferring option.
To use the transfer feature, you will need both parties to accept the transfer request.
Why should you transfer your cloud environment?
There are many reasons why you could transfer your Cloud Environment to another account and we'll try to highlight a few:
Move all your projects to a new account, registered with a different email address to separate your billing for example.
Transfer your employee's work projects to another developer's account in case he is leaving the company for instance.
Move from your test environment to a production-ready environment.
Restore environments from an old deactivated account without needing its reactivation.
What are the conditions to transfer?
You can transfer any environment, no matter its status: stopped or running and from any account including deactivated ones.
However, when transferring out, the target account should meet the following requirements:
Type: beta or billing except trial accounts.
Status: active, not available for suspended or deactivated accounts.
Quotas: should have sufficient quotas to add the environment.
For instance, some quotas that are checked during the transfer are:
Cloudlets per container.
Nodes per environment.
Environments on account.
Public IP / VPS / high-availability features (if enabled in the transferred environment).
In case of an error, you will see the corresponding notification directly on your dashboard such as:

What to expect once the transfer is complete?
Once you transferred your environment, you should notice that no changes were applied. The new owner receives it as it was before, with the same applications deployed, and with the same custom configurations.
You should also keep in mind that as the environment is transferred to a new account, its charges and billing will be applied to the new owner as well.
PLEASE NOTE: When you transfer an environment, it automatically unshares from all the users that had access to it previously.
Steps to transfer your Cloud Environment
To transfer your environment:
1. First, click on the Settings button next to the required environment's name.

2. In the environment's settings tab, navigate to the Change Owner section. Then simply enter the new owner's email address.
PLEASE NOTE: The environment transfer request can only be processed if the new owner has already set a UKHost4u Cloud Solutions account.

Then click on the Send Request button to continue.
3. If the new owner account exists and meets all the requirements, a confirmation message saying the request has been sent will be displayed.

PLEASE NOTE: If you want to cancel your request (for any reasons), You can use the Cancel Request (as long as the request is still pending you can cancel at anytime).

4. Once te request is confirmed, the new owner will receive an email (see below) including a link to proceed to the final step of the transfer.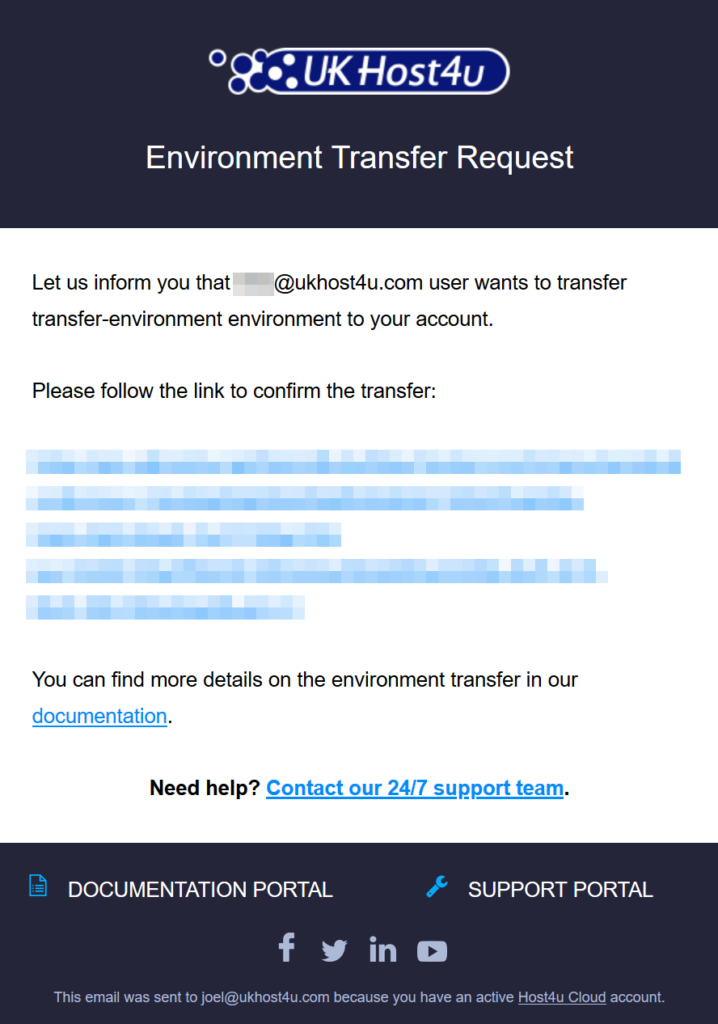 5. The new owner just needs to confirm the transfer by clicking on the link. The environment will be removed from your interface and will then appear on the new one.
PLEASE NOTE: A final check is ran to determine if the target account is valid (for example, if it has sufficient limits). If it doesn't meet requirements, the transferring process will be stopped.
An error message will be displayed on the top right of your screen and a notification email will be sent back to the sender.
---
In short – while using this feature, you can easily move environments from one account to another.
We hope you've enjoyed this article. Don't forget your 14 Day FREE Trial to start creating, deploying and transferring your sites or applications.