What is a cloudlet and how does it work?
What is a Cloudlet?
With UKHost4u Cloud Hosting Solutions Platform, the container resources used are measured in cloudlets.
A cloudlet is a special measurement unit, which includes
128MB of RAM and 400 MHz of CPU power simultaneously.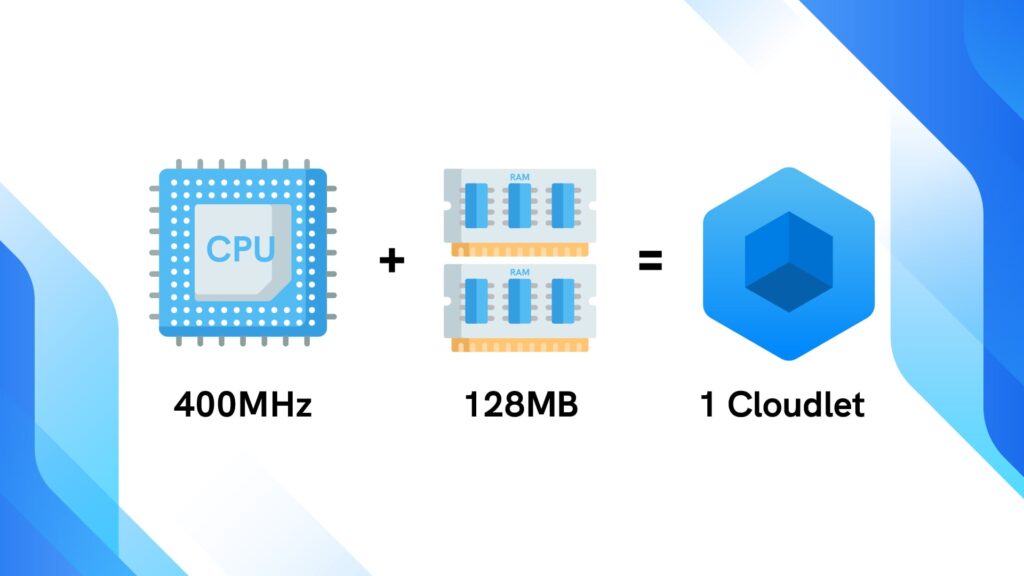 Such granularity allows us to determine exactly the required capacity for each server in environment. This ensures truly fair usage-based pricing so you do not pay for unused resources.
Compared to other hosting provider, we do not charge for a limit that you will never reach and only for for you really consume.
PLEASE NOTE: Usage of disk space and network traffic is measured in megabytes (1000 KB) in contrary to RAM consumption with MB=1024 KB unit.
Now, let's dig in each types of cloudlet, how we calculate the cloudlet usage and how to track your resource consumption.
Cloudlet Types
Cloudets are available to be set up in every environment via the Vertical Scaling Per Node topology wizard section that you can see below: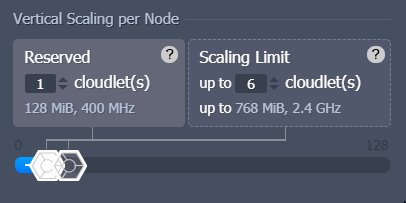 Within your UKHost4u Cloud Environment, you will find two types of cloudlet:
Reserved Cloudlet
Dynamic Cloudlet
For example, if a layer contains multiple nodes, the limits set will be configured for all of them at once.
Within your environment topology wizard you will notice two sliders when setting up your Vertical Scaling settings. In fact, each slider corresponds to a particular cloudlet type:

Reserved Cloudlets : are reserved in advance and will be charged irrespective of your actual resource usage. Based on their number, you will get automatic discounts.
Dynamic Cloudlets : are added or removed automatically according to the amount of resources required by your application at a particular moment in time. For example, if loads go up, they'll be automatically assigned and billed as per the usage. However, as soon as loads drop down they'll be removed again.
This helps you to handle unexpected surges without any pre-planning, special coding or overpaying for resources you won't need all the time.
Basically, the Dynamic Cloudlets slider defines the container's Scaling Limit, setting up the maximum possible amount of cloudlets available to be allocated for it.
PLEASE NOTE: You can always adjust and re-configure your environment's scaling limits.
As a result, the combination of both Reserved and Dynamic allows you to perfectly scale your sites and applications to their usage requirements, and to only pay based on your actual resource usage.
We do recommend you to use Dynamic Cloudlets alongside with the Reserved Cloudlets to gain the maximum profit and get all the advantages of your application's automatic vertical scaling with simultaneously benefit from automatic discounts.
Cloudlet Consumption Calculation
Now let's dig in the way we calculate the number of cloudlets used.
Calculated on hourly basis:
for RAM: that calculate the highest RAM consumption over the hour (the peak).
for CPU: calculate the average usage.
The greater of these values, but not both of them combined, is considered as your actual environment consumption.
For example, if during one hour your average CPU usage is 2400 MHz ( or 6 cloudlets), and your highest RAM usage is 1024 MB (so 8 cloudlets), you will be charged for 8 cloudlets only and not for the combined total of 14 units.
Consumption Tracking
Once your environment is up and running you'll be able to see its current resource usage for every layer/node within the corresponding Usage column on your dashboard:

If you wish to view your servers' consumption level for a particular period of time, simply use the corresponding Statistics button or check the applied account charges within your Billing History.

---
Have a question?
Feel free to contact our support available 24/7 all year long if you have any questions or if you need our assistance using our live chat or ticket support system.