Search Knowledge Base by Keyword
Cloudlet
In the UKHost4u platform, cloudlets are the measuring units that indicate consumption by container resources. It is a unique measuring unit that consists of 128 MiB of RAM and 400 MHZ of CPU power at the same time.

Cloudlets are greatly granular and allow to exactly determine the needed volume for each server in the environment which makes sure that truly fair usage-based pricing so that you don't have to pay for the unutilized resources.
In this section, we will explain the kinds of cloudlets used at the UKHost4u platform. Also, we discuss how the cloudlet consumption is evaluated and where to track your usage of resources.
Types Of Cloudlets
You will come across two kinds of cloudlets at the UKHost4u platform, accessible to be set up for each server in the environment through the Vertical Scaling per node Topology Wizard box: Reserved and Dynamic.
In case a layer comprises multiple nodes, these limits are evaluated for all of them at the same time i.e. are given equally for each case.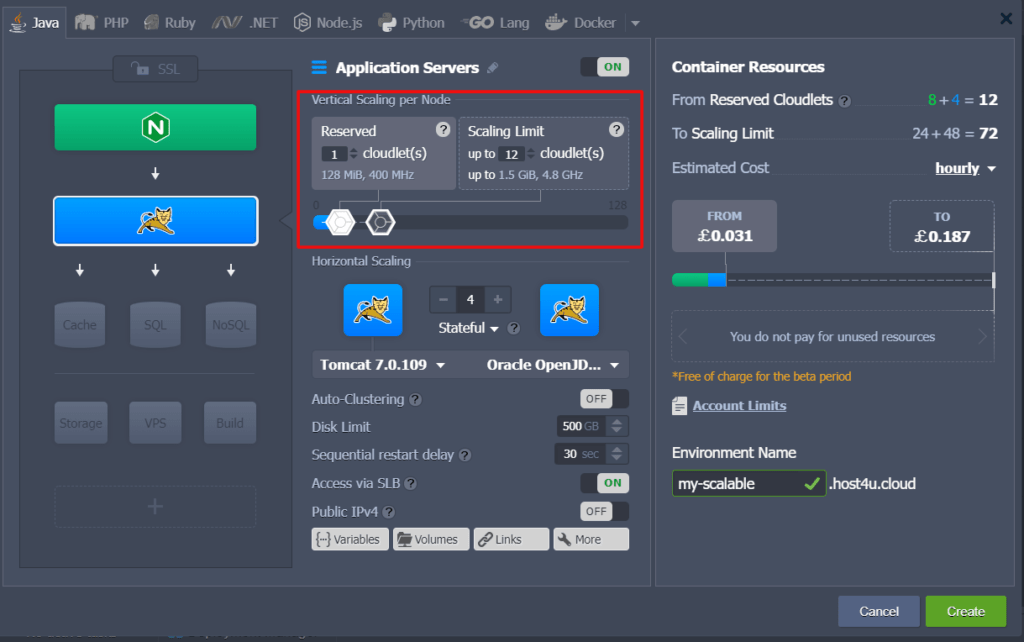 In this illustration, each toddler represents a specific type of cloudlet;
Reserved Cloudlets : These cloudlets are reserved in advance and will be priced regardless of your actual resource utilization. In return, you will receive automatic discounts depending on their number.
Dynamic Cloudlets : These clouds are added and subtracted automatically depending on the number of resources that your application needs at a specific time i.e., they are given when the load rises and removed when the load falls down. As a result, you pay based upon your actual usage of the resource.

This kind of cloudlet lets you overcome unexpected rush in demand without any prior planning, distinctive coding, or overpaying of the resources you will not require most of the time. This way, with the help of Dynamic cloudlet toggle you can adjust the scaling limit, specifying the maximum possible number of cloudlets available to be assigned for it.
In order to obtain the maximum benefit, it is advised to use the Dynamic cloudlets along with the Reserved cloudlets to get all the advantages of your application's automatic vertical scaling, and side by side, to profit from automatic discounts.
Cloudlet Consumption Calculation
This is the way in which the number of used cloudlets is counted hourly;
For RAM: this indicates the highest RAM utilization over the hour.
For CPU: the average utilization.
The biggest of these values is considered as the actual environment consumption, which will be charged from your account based on the UKHost4u tariff.
Tracking The Consumption
The recent usage of resources of your environment generally and for each layer or node it consists specifically can be observed inside the relative Usage column at the dashboard:

To view your server's usage level for a specific period of time, you can utilize the corresponding Statistics section or verify the applied account charges inside your Billing History.