Search Knowledge Base by Keyword
Adding Nameservers from cPanel
Nameservers are a part of the Domain Name System. This is used to keep record of which domain is connected to which IP address.
These also allow us to use a domain instead of using a direct IP address of the DNS server. For ex. this is useful when you'd like your visitors to call your website by say example.com instead of https://192.192.192.192
Typing the URL of your domain tells the browser that from which server it should load content from. In easy words, Nameservers are used to define the current DNS provider of your domain.
You have to connect your domain to the hosting that you have purchased with UKHost4U.com
If you have purchased the domain and hosting from the same provider, then it is understood that the Nameservers maybe already setup. However, if you have purchased your domain and hosting from different providers, then you will have to manually add new Nameservers to your domain, so that it can point your domain to the right server.
This tutorial will help you do the same.
Utilize your domain registrar's name server configuration guide.
Within your domain registrar, add UKHost4u.com's nameservers
Domain nameservers usually take time to propagate. This time is usually within the range of 24-48 hours.
How to find my nameservers?
The easiest way to find your nameservers is within the welcome email.
Here's is how it would look like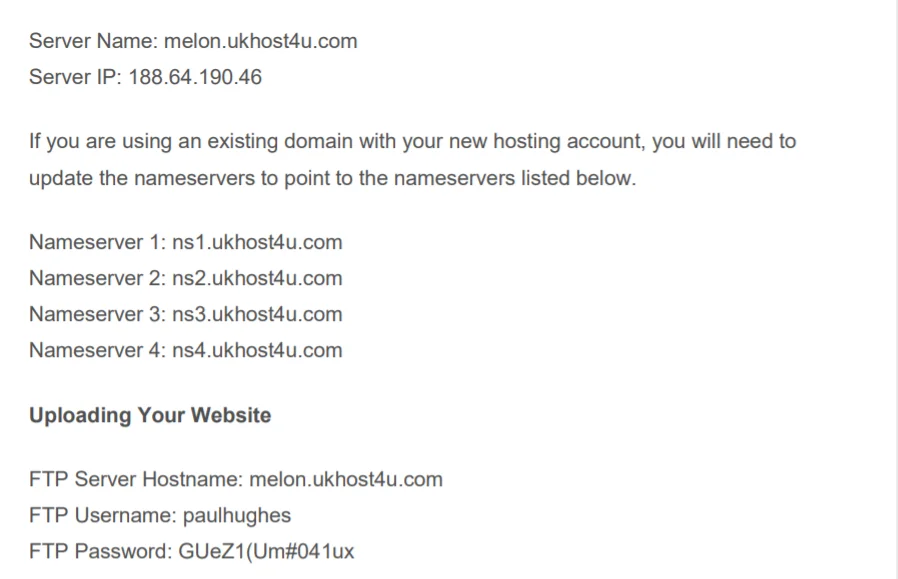 All domain registrars have different ways to add the nameservers. However, what is common is that the nameservers when added, will need 24-48 hours to fully propagate.
Before that your website may not work – and that is normal.
That's it for now. Hope you found this useful