Search Knowledge Base by Keyword
Create Database Server
UKHost4u platform gives you a set of scalable entirely controllable database servers that you can conveniently install and work with. The procedure of new database formation is quite simple and is a matter of a few minutes.
1. Click on the 'New Environment' tab on the top-left corner of the dashboard or the 'Change the Environment Topology' icon on an existing environment to open the Topology Wizard.

2. Now go to the SQL or NoSQL wizard category to choose the database of the relative type.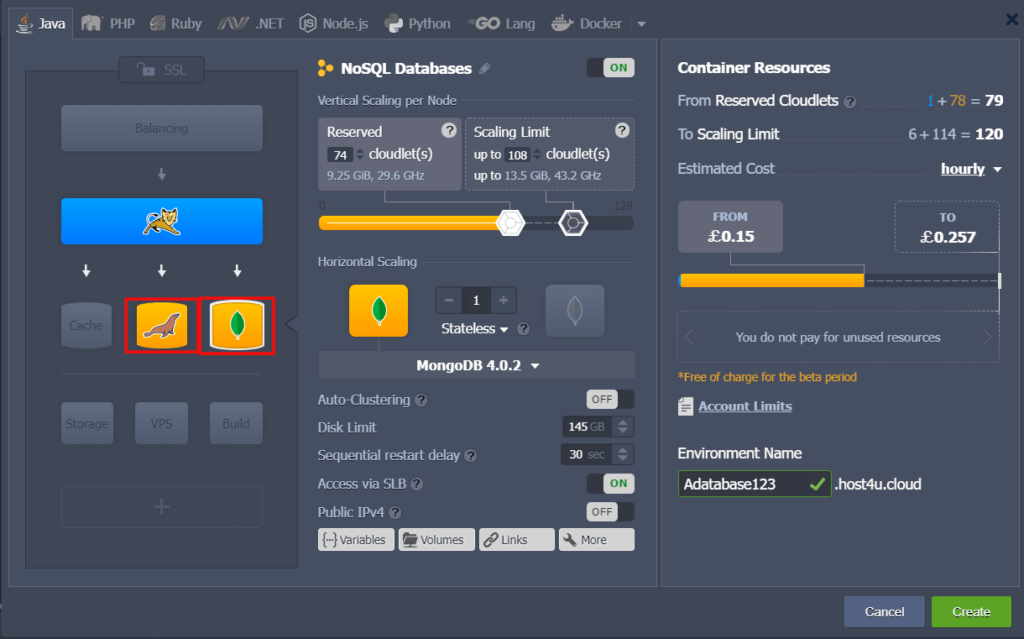 You can choose the available DB management systems from the drop-down list
You will get an email notification with information (access URL, login userID, and password) to the database administration panel once the respective database server is created.
3. To open your database admin panel, tap on the Open in Browser tab corresponding to the selected database node in the dashboard.

On the opened window, enter the login details and start applying configurations needed by your application.
Once your DB server is all set, you can link your application to DB.
Password Reset For The Database
On your dashboard, you can reset the password for your Database by clicking on the similar-named button beside it.

That's it! You will get a new email having a new password to open your database admin console.
Admin Panel URL Of The Database
The admin panel URL of the database in the UKHost4u platform comprises of these parts;

(node ID): it is the ID of the selected database container that can be found at the UKHost4u dashboard.
(environment name): the name of the environment you have added the server to.
(hoster domain): the domain of your hosting provider which can be located inside the appropriate table in the Hosters Info page.