Search Knowledge Base by Keyword
Environment Isolation
With the network isolation feature, the default access rules among environments within a single UKHost4u installation.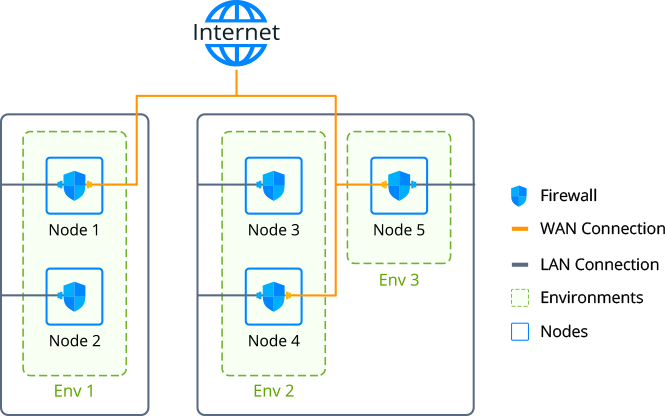 With this, each internal link among nodes on the platform needs to go through a detailed check-up before being permitted. It is then confirmed that the requesting and requested environments belong to the same isolated group.
Private Network Isolation
All the accounts will be isolated from each other automatically if the Network Isolation feature is activated on the interface. In this case, the link among the environments on separate user accounts can be made only if configured exclusively on both ends.
With this feature, the developers can isolate groups of environments within a specific account. When the Add/Edit group frame displays, just click on the Network Isolation toggle to enable it.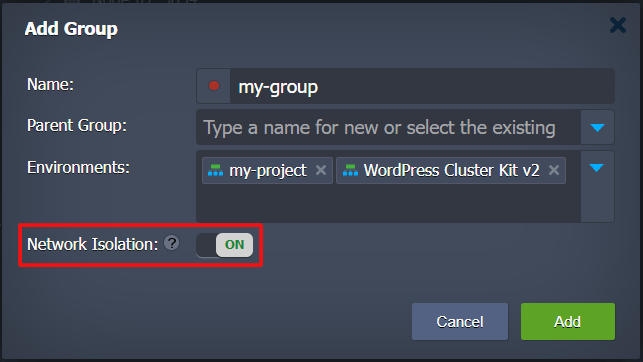 UKHost4u platform joins the internal address of the containers into a committed IP set for each isolated group. This permits controlling access between nodes. The platform will know the related modifications or changes under your account by default to keep the IP sets upgraded.
Give consideration to the following features while handling Network Isolation:
1. Isolation can be activated for the top-level group only and not for subgroups.
2. For an effective recognition a custom shield

is given on the environment groups whose isolation is enabled.
3. Shared environments do not come into isolated groups by collaborators.
4. This feature is not ideal for restricting the access to your containers from exterior of the platform.
Using Network Isolation
Summarising, Network Isolation is a very user-friendly and productive feature intended to thwart unwanted access to your environments. Usually, it is a good habit to isolate your created environments from each other. For instance;
You can be assured that your containers in the isolated groups won't be accessible through the platform's in-house network in case you have to share access to your application or database with a third-party organization ior an employee.
The initially isolated project will be protected from the clone's influence if you are cloning it.
That's how Network isolation protects the projects under a single account by separating them and avoiding unnecessary interconnections.