Search Knowledge Base by Keyword
How to Login to cPanel
There are two ways to login to cPanel for your hosting accounts: through the Client Area, or by visiting the cPanel login page.

Client Area
Login to the Client Area using the links below:

UKHost4u: https://www.ukhost4u.com/billing/clientarea.php
Here you can enter your login details and click Login.
Once logged in, navigate to the "Services" icon. On this page you can now click "Manage Product" beside the hosting package you want to access cPanel for.
You can then select "Login to cPanel" on the left side under "Actions":
This will directly log you into the cPanel interface.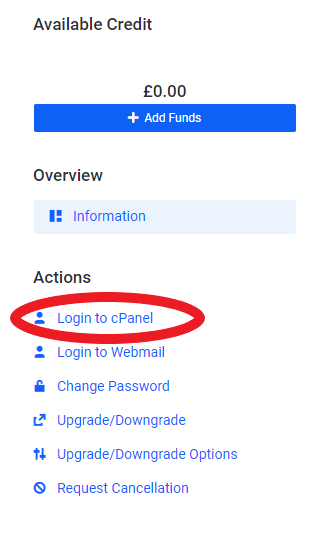 cPanel Login Page
Another way to access cPanel is directly through the login page. To access this page:
simply add /cpanel to the end of your domain name
or enter the server hostname with :2083.
Here you need to enter the username and password for your hosting account, which you will have received in the hosting activation email.