Search Knowledge Base by Keyword
How To Organize Your Environments Efficiently
Starting to feel overloaded with a project or simply having trouble finding the right environment in a timely manner?
Environment Groups can be easily recognized in your dashboard with the icon:
Environment Groups have been designed to categorize and organize environments within your UKHost4u Cloud Solutions dashboard.

Creating a group should definitely help you ease any environment administration in your Cloud Hosting dashboard. If you have multiple account environments, this group feature enables you to get a clear-cut view of your project components and landscape but also to stay organized in all your development projects.
Grouping allows you to define tags for specific users, attach them to the appropriate environments, and have a clear overview of your projects.
How to select an environment group?
You can see each environment's tag(s) displayed within the separate "Tags" column in your Cloud Hosting dashboard.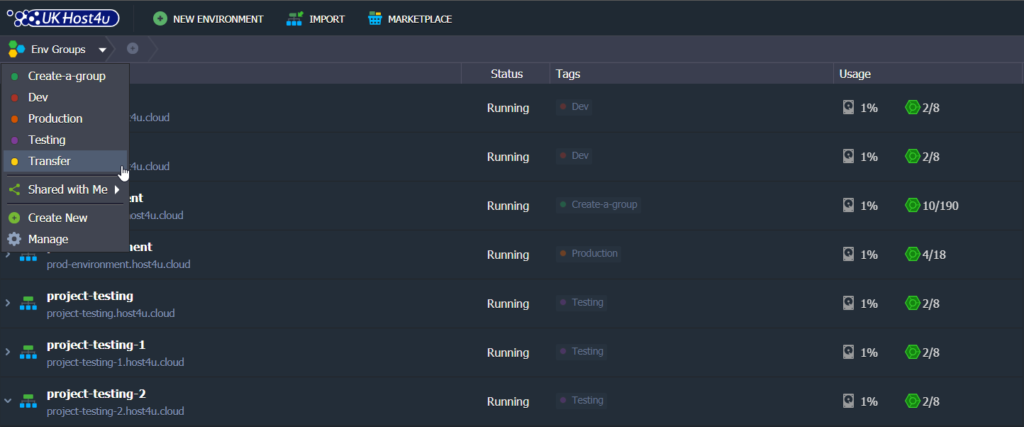 In order to quickly filter your projects or environments, you can directly click on the required tag which will automatically sort your environments by one or more attributes that you've used for differentiation such as:
Stack type
Project name or relation
Development stage
Shared to
You can locate the Env Groups menu to manage all your environment groups (right above the environment list).
Here you can find great options to manage and access your already created environment groups.

When you select a particular group, you will see its name displayed on the top next to the Env Groups option. Once selected, this will act as a filter and display the corresponding tagged environments.

How to cancel group filtering?
To cancel the group filtering option and go back to your overall list of available environments simply click on the main Env Groups button.

How to structure your group's levels?
You can view the overall structure of your environment groups, with all inclusions and nesting levels, using the dedicated Environment Groups box (Env Groups button -> Manage).
If you need to build a higher structure for your environments and add levels you easily do so by clicking on the Env Groups button -> Manage -> Select your Parent's environment -> Click on the arrow icon (next to Add) -> Add Child.
From your Environment Groups management box, you can also perform all necessary group adjustments for your own organization and management.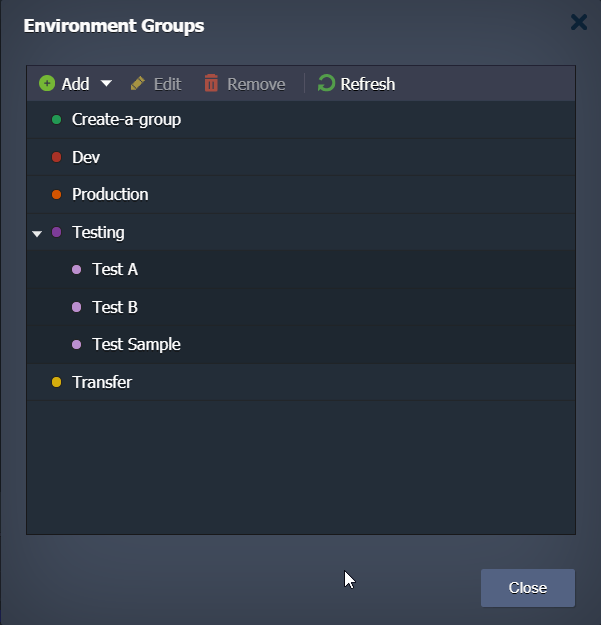 How many environment groups can you create?
You can create an unlimited number of groups using any letters, numerals, special characters, and spaces within their names.
Furthermore, each group can be parted further into smaller subgroups and even tag one environment into multiple groups, which makes this approach truly flexible and versatile for a good structure and organization.
To get a hands-on experience with environment groups, follow the next guides and find out how to:
Create Environment Group
Navigate across environment groups
Manage environment groups