WordPress SEO Guide for Beginners
Our guide to optimising SEO for WordPress beginners explains the purpose behind Search Engine Optimisation, and how to use the capabilities of your WordPress Content Management System to improve your site's search rankings. If you did not read our a basic introduction to the WordPress dashboard, then you can do that here. 
SEO – a definition 
SEO is an abbreviation of the term Search Engine Optimisation. Which comprises various methods to raise the amount of organic traffic to a website. SEO is a specialised area of digital marketing and as such, many SEO professionals work alongside businesses who perceive this as a key aspect of their marketing strategy. However, there are many simple elements of SEO that beginners can use to improve their search efforts too.  
SEO factors that influence the effectiveness of your website include design, links and the keywords used in your content. Another important consideration is that not all SEO techniques are universally known and the algorithms that search engines use, are changing all the time. 
How SEO works in 5 basic steps 

Design and publish your website as you want it to appear.

Google, Bing and Yahoo! and other search engines then crawl over the pages of your site using bots and spiders to draw out data and bringing it back to servers.

The search engines then determine how to rank the page according to this data.

Your pages are indexed by the search engines.

Your pages are displayed in search results.
When pages are updated or new ranking factors are added to your site, web crawlers will again visit your site and update the information using the new data. These activities are important as they influence whether your ranking goes up or down. 
The role of SEO 
The fundamental purpose of your website, no matter what its nature, is for users to find it. SEO is all about visibility, meaning it's essential in helping you raise your site's profile online. Your SEO plan should feed into your whole website strategy, guiding you to more effective content. 
Understanding more about SEO will help you build a platform that will improve the number of visitors converting into increased sales, greater awareness of your business or whatever your digital marketing objective may be. If you are not visible then it will be challenging to improve these.
Basic Settings to improve SEO on WordPress 

Your WordPress Content Management System has a number of different settings designed to improve rankings, all accessible from the dashboard. Below are the three main features within 'settings' that you address immediately. 
Search Engine Visibility
As a simple first task make sure search engines are not being discouraged from crawling your website. Go into your WordPress Settings Menu, click on 'Reading' and on this page you will see at the bottom, a box that says: 'Search Engine Visibility'. Make sure this box is unchecked so that your site can be indexed by search engines.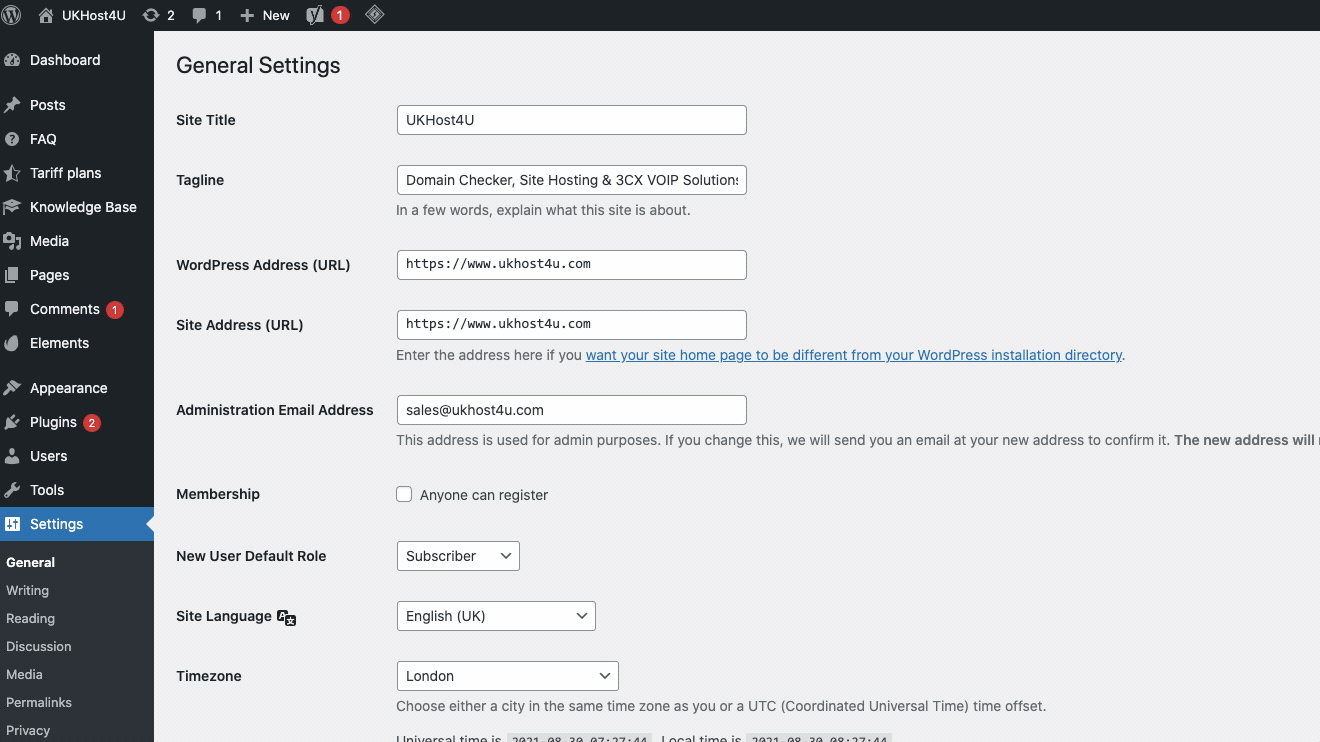 In the settings section you will also see 'Site Title' and 'Tag Line' where you need to add in relevant words, both are very important for SEO. The title is displayed on the browser tab and the tagline describes what your website is.
Permalink settings
A permalink is a URL that every page on a website has. For example, www.yourwebsite.com/an-example – they are usually made up of two parts: the website address followed by the slug which is the description of the page. These are crucial to SEO as search engines use these to comprehend what each page is about. By adding target words into these permalinks you will increase the success of your SEO. In WordPress, you are required to do this manually. WordPress will use the content on your page to create a suggested permalink for a given page. You can go to the permalinks page on settings and highlight 'post name' to see where this suggestion is. 
Site Health 
A bit like a health check in real life, it is important to periodically check the health of your website, at least every six months and for bigger sites you should do this more frequently. This is an important setting that is actually located under 'tools' on the main Dashboard.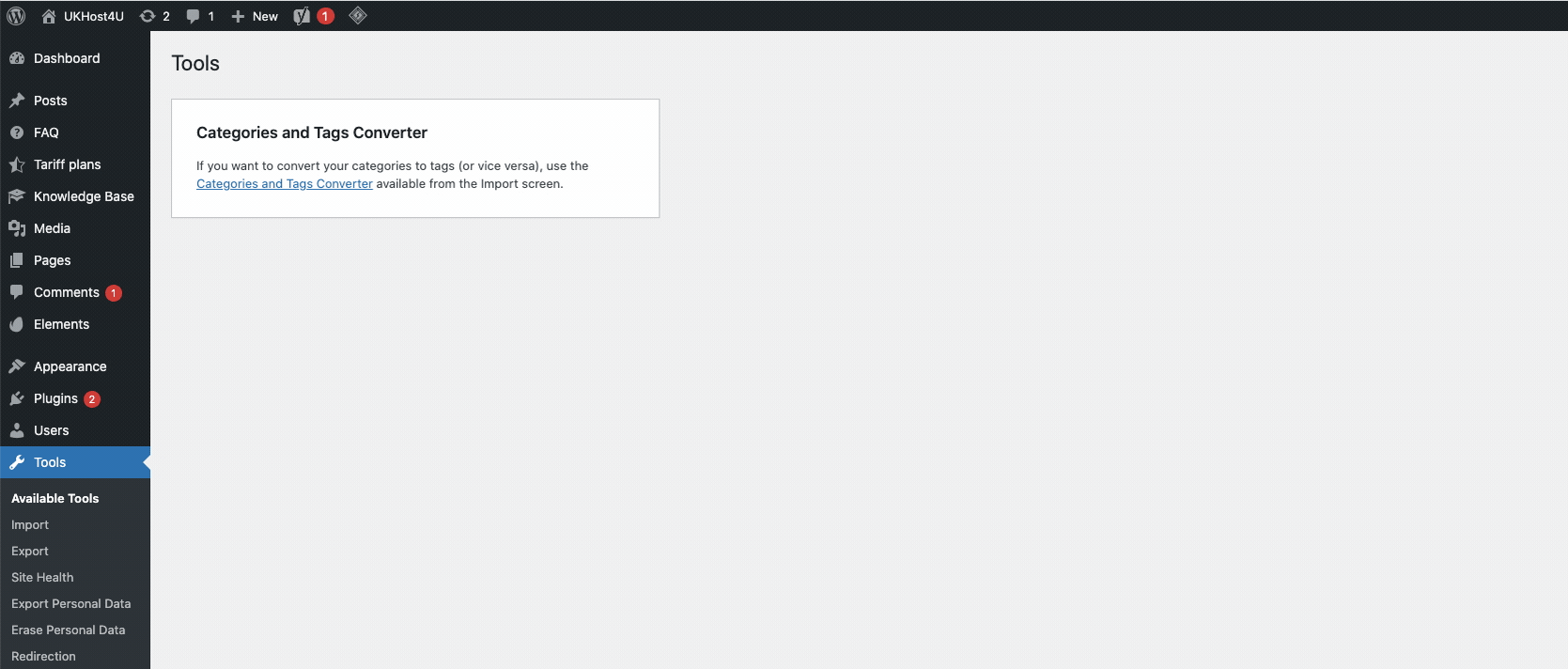 The site health page will highlight critical issues that need amending, as well as improvements that can be made. This could be updating an outdated PHP version of your site, or simply removing inactive plugins or themes.
Methods for optimising your WordPress website

Now you have completed these simple tasks you will be ready to implement some more sophisticated tactics. 
Organising the structure of your site:
A good place to start when planning your website is the structure. This provides some logic before you have input all your content, and gives an overall view of how your site will work and how you can plan future pages in one snapshot. It also helps with link building which is helpful for SEO (more on that later). 

By using a simple flowchart style spreadsheet, plan your pages as you envisage them. Start with the homepage at the top and work down to form sections with further sub sections as required. You might also want to detail your blog into sections as well. 
Build a site map
At this stage, you can create and submit your site map to Google Search Console.  This helps search engines index your site and enhances your ranking potential. 
First of all, install the Yoast SEO plugin.
Then go to the setting of this plugin, and make sure XML sitemap is enabled
Then add /sitemap_index.xml to the end of your website address. Enter https://www.your-website-address.com/sitemap_index.xml
And you will have an XML sitemap. You can then submit this in the Google Search Console. If you don't have your site set up there read this post that will guide you through it.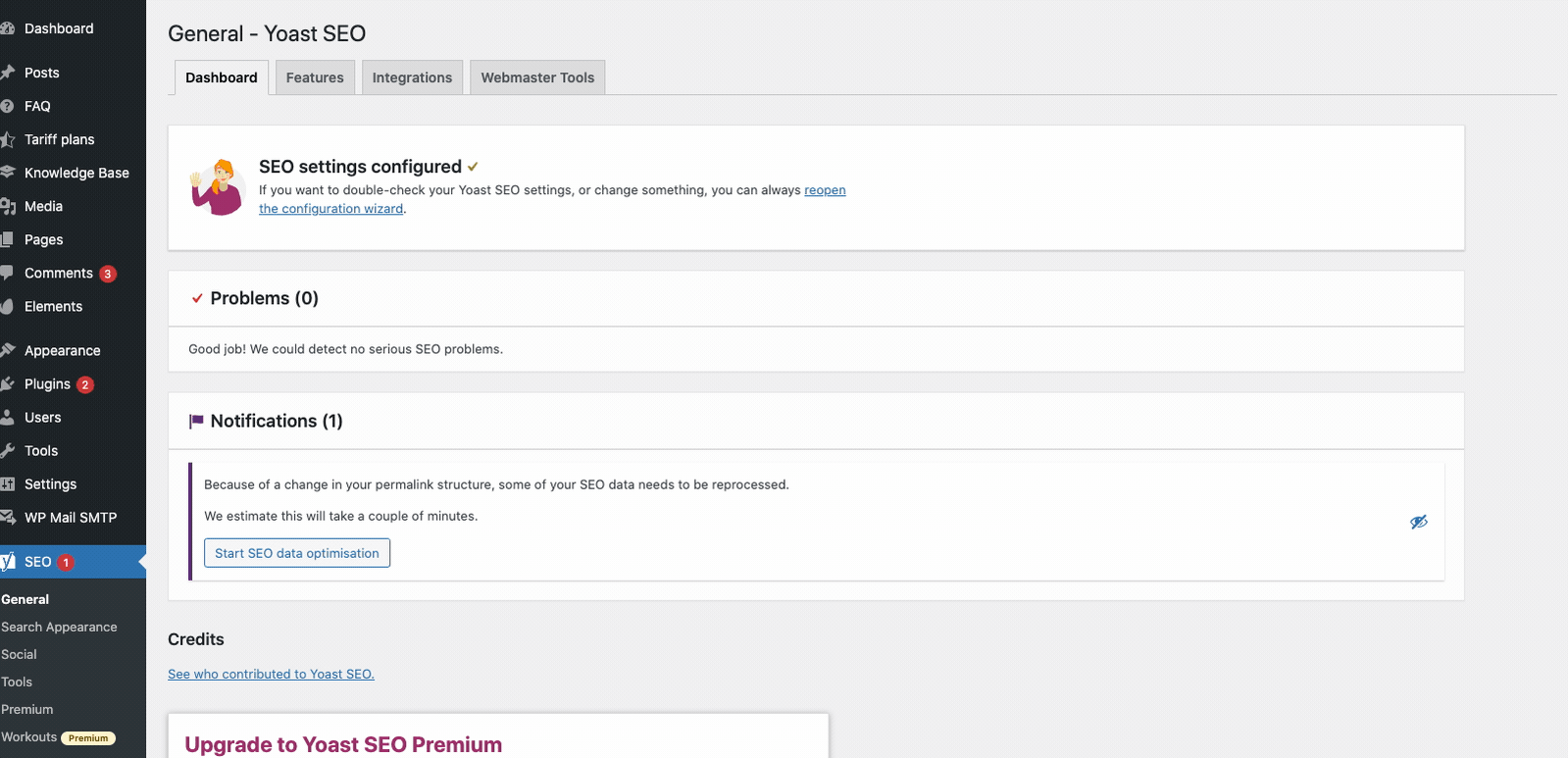 Crucially, a sound website structure helps SEO crawlers find their way around your site and discover content more easily.
Within WordPress there are a number of different structure methods, including the following: 
Pages – you can create a standalone page and hierarchical pages (also known as child pages or sub-pages) this helps it make it more logical for users. 

Blog categories are an important factor if your aim is to add lots of different posts, and they also make the permalinks task much easier. 

Website navigation including key areas of your site like homepage, services, about us etc can be placed in the footer, header, sidebar and help visitors find information easily. If the content is not easy to find, users will not return. You can always modify the structure but remember that continual changes will impact SEO negatively in the long run, so best to get it right first. 
How to optimise your content on WordPress 
To allow visitors to glide through your site intuitively, you can utilise tags and categories. Categories are used to put blog posts into different themes or topics. For example, you may have blog posts relating to the environment, politics or technology categories. To make things easier for the reader, you must assign a blog post to a category.  As well as helping readers find relevant posts, categories also use permalinks that are more SEO friendly. 
This video from Yoast will help you further.

Using categories in WordPress 
Under 'posts' in your dashboard page, you will find 'categories. As mentioned above, these are another important element in WordPress for SEO, as it helps with usability which converts into strong SEO rankings. You can create permalinks from categories that provide further detail on your content for crawlers. Under 'settings' you will find 'permalinks' where you can edit 'custom structure' to include the most meaningful and relevant words for your posts.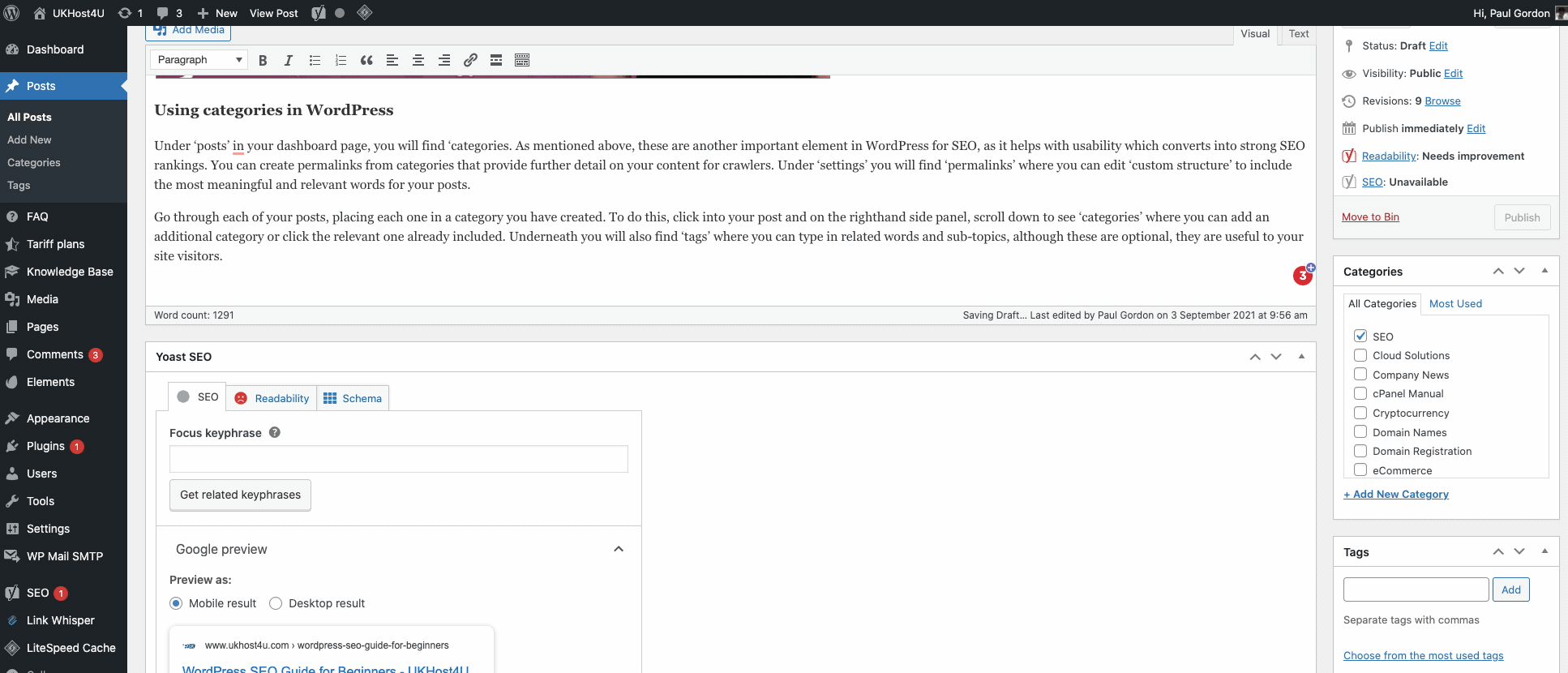 Go through each of your posts, placing each one in a category you have created. To do this, click into your post and on the righthand side panel, scroll down to see 'categories' where you can add an additional category or click the relevant one already included. Underneath you will also find 'tags' where you can type in related words and sub-topics, although these are optional, they are useful to your site visitors.
Writing quality content to improve SEO 

Like all strong websites, you will need excellent content for your SEO strategy to be successful. Effective content writing involves creating a strategy that focuses on several key areas: 
Keyword use – when writing both on-page content, blog posts, news or guides, you will need to include words that are relevant to the copy you have written. It's not difficult to apply these with your own knowledge but you can also use keyword research tools like this one from

SEMRush

that will help you generate more keyword ideas, examine click potential and find long-tail keywords to further improve SEO.

Use of headlines – breaking up content with intuitive and impactful headlines will also help guide your visitors, especially if they are looking for something specific and need to scroll to find it. 

Links are important also, and including internal links that help readers logically move from one topic to the next contributes to SEO success.

Ensure quality updated content. Although Google, for example, rates high quality above recently updated content, both still help towards positive SEO results. Google updates its algorithms regularly, the last update related to content was 'Bert' in 2019 which ranks high-quality content and penalises poorly written copy with a lack of content and focus.
Making your WordPress site mobile friendly

According to Tech Injury's 2021 insights into mobile Vs desktop users, the share of mobile users rose to over 10% with mobile phones generating 54.25% of the traffic compared with 42.9% for desktops. Consequently, it makes sense that Google penalises sites that are not mobile user friendly which affects how websites are ranked specifically in smartphone searches. Responsive website design (sites that can respond to different devices easily) is therefore important in the eyes of Google, although not an official ranking signal. 
Tips on optimising WordPress for mobile users
To help you improve your site for mobile users, follow these tips: 
Securing your WordPress site 

Poor online security can repel potential visitors too, so it's important to get this right. To ensure your site is secure you will need to perform some basic but essential tasks. These are: 
Update plugins and themes regularly on your dashboard, as these can sometimes be accessed by hackers. 

Use a secure hosting provider. 

Change your login URL and use a secret admin login page to prevent hackers, hiding the admin page and helping to prevent hackers from launching a password guessing attack on the page. You can install this free plugin see

here

.

Always use a strong alphanumeric admin password with symbols. 

To encrypt data from and to your server, you can enable HTTPS using your SSL (Secure Socket Layers) certificate. Your hosting company can assist in doing this for you.
How can I test the speed of my site? 

Another direct SEO ranking factor is speed. In 2021, Google updated its speed algorithm with its Page Experience Update. Speeds can affect bounce rates and lessen the time users spend on your site, so the faster the loading speed, the better the user experience. 
Below are three testing tools you can use to assess loading speeds and discover what may be affecting things with your website. These tools provide an overall performance rating, advice on using more appropriately sized images and using a Content Delivery Network (CDN). With the help of these kinds of tools, you will be able to carry out some basic fixes including embedding videos, better optimising images, using a WordPress plugin.
Improving usability  
As already outlined, usability is hugely important for your website. The key to this is to keep things straightforward for the user. Ensure that prompts for further information are clear and the fewer actions a web visitor has to make to find what they are looking for, the better. 
Testing usability can lead to increased traffic, more shares on social media and repeat sales conversions in some instances. As already discussed, one of the ways you can do this is by making your site mobile friendly and you should always keep in mind the needs of a mobile user. To do this you can bring real-life web users to perform tasks on your site and provide their feedback. You can also adopt concise content, ensure your site is accessible, use website analytics and consider the layout and use of white space, colours and images. 
Performance tracking for SEO is not a finite task, updates for plugins, for example, need attending regularly and if not, there can be some negative consequences including 404 errors. Keeping WordPress up-to-date can also prevent security problems.
Which plugins should I use on WordPress? 

Below are 10 of the key WordPress plugins to optimise SEO:
Yoast is perhaps the most well-known WordPress plugin supporting SEO. With free and premium versions, it contains lots of different features, including advanced XML sitemaps, SEO courses, and canonical URLs to help avoid publishing duplicate content. Yoast analyses the content of your page or post and offers suggestions on how it can be improved. A traffic light system indicates what needs to be addressed. For example, it could be 'green' for a good length of meta descriptions, 'amber' for a lack of alt attributes on your images and 'red' for the absence of a focus key phrase with the page. 
This is a SaaS and a free plugin for WordPress aimed at non-SEO technical experts to help improve search traffic. The idea is to help you craft content in a way that is engaging for readers, but also attractive to search engines. It provides insight on how you can improve any errors or issues, and like Yoast, it generates a sitemap for Bing and Google, and analyses your posts. 
All In One WordPress is a popular SEO plugin, providing a large variety of SEO solutions. These features include TruSEO on-page analysis which allows you to easily add title tags, keywords and meta descriptions. It also has an SEO audit checklist that can detect serious errors and provide suggested actions to remedy any problems and boost SEO. To install, go to plugins, and search for 'All In One WP Migration' – when it appears you can install it then activate it once completed.
Rank Math is an SEO plugin with a simple set-up wizard to help you get started quickly. With a very large number of features, it aims to take the pain out of spending lots of time complying with best SEO practices by providing recommendations on optimising content, controlling and which pages are indexable. With Rank Math, you can check the status of your sitemap, and any indexing issues. 
SEOPress is a free plugin capable of performing similar tasks to other SEO plugins. It offers a wizard setup, content analysis, social previews so you can see how your post will on social media, as well as mobile and desktop Google previews. There is also a backlink tracking tool you can discover which sites link to yours and poor quality links leading back to your site too. 
This plugin quickly detects dead links within your site and individual pages within it. This is very beneficial for SEO as broken links can cause traffic to lessen over time. The availability to external links is also checked and detailed in the report. An alert will be sent to you when links are found enabling you to fix them straight away. Alternatively, you can set the plugin to stop search engines crawling these broken links. 
Because the loading speed of a page is now considered a ranking signal, a plugin like WP Super Cache will also help with SEO as it allows you to test loading speed across your pages. It works by generating static HTML files from your WordPress blog, which your web server will use instead of denser WordPress PHP scripts, thus increasing speed. These will be delivered to the vast majority of users who may not be logged in or have not left a comment on a post, for example. 
MonsterInsights plugin is specifically designed to connect Google Analytics with WordPress, revealing crucial information like how users have found your site and what content they are engaging with. The analytics dashboard it provides means you can see clearly what needs addressing on your site. The customised reports are also simple to comprehend and state clearly what needs to be adjusted. 
The Semrush Writing Assistant is a useful plugin for checking the quality of your written content and offering suggestions that it bases on other high-ranking pages in your specific area of business. Readability scores, tone of voice, target keywords, linking errors and plagiarism are all checked with the tool. To set this up you will have to register for a Semrush account. 
This plugin allows you to include a table of contents within your post to help the reader journey to find what they are looking for more easily. These tables are generated automatically for pages and posts, and there is a range of different customisable options. For example, displaying the contents as hierarchical, hiding the table from visibility and being able to 'nest' key headings to compress the list, making it easier to filter. 
This plugin is not so well known. But it helps you manage the internal linking of your content. Which can be very time-consuming. This certainly is a time saver.
Factors that affect SEO – on and off-page 

A full SEO strategy requires the consideration of both on and off-page ranking signals. On-page elements are those that are within the control of your website. Off-page elements are those which refer to what you do outside of your platform. These could be anything from Google My Business, backlinks from other sites, digital PR activity, social signals and brand mentions elsewhere on the internet. 
Off-page SEO 
Off-page SEO is important due to the vast number of ranking factors search engines use. These factors are not based purely on your on-page content. Links sourced in other parts of the internet provide search engines with more information about how relevant, authoritative and trustworthy your site is. 
Link building techniques
Link building relates to the activity of increasing the volume of inbound links to your site from other platforms on the web. You can include links on various different sites, including: 
Editorial links

are generated when you can offer quality content or articles to an online publication. 

Directory links

allow businesses to submit their links to be listed alongside other similar organisations. 

Image links

can also be submitted to image directories with your site's link 

Guest blogging

is also effective for building links and involves submitting unique content for other websites or related platforms where links can be used 
Link Building often proves more effective with time and as you establish and improve your site further with healthy traffic. it is important to always remain on topic when any kind of content is produced in relation to your site as this will positively affect your SEO efforts. A solid link building strategy starts with planning, creating your content, promotion on social platforms, blogging then outreach. If you want more ideas on how to start planning your link building strategy take a look here.
Networking and being active in your community
By undertaking other offline and online activities, you can also increase your SEO. Taking part in industry webinars, being an interviewee in a podcast (or even starting your own podcast) and submitting press releases to online publications about your business will all help with your SEO off-line strategy. 
Write your own blogs
In terms of on-page SEO, you should be writing regular blogs posts like these that will enable you to target keywords and key phrases. These blogs can also help you generate further content ideas and demonstrate your quality content to other platforms you may be approaching to write an editorial for.
Summary 
WordPress is one of the most popular Content Management Systems available and is widely acknowledged for its compatibility with effective SEO. After gaining a firm understanding of SEO and its ever-evolving nature, it's time to make your SEO plan alongside your knowledge of WordPress's capabilities. 
Employing the various technical optimisation methods detailed in this guide, such as using WP settings effectively, incorporating relevant SEO plugins and ensuring website security will provide an excellent grounding for successful SEO. Off-page content and link building should also feature in your strategy with the time taken to ensure your objectives are clear. Crucially, as SEO is in a constant state of flux, you should bear in mind that your efforts will be rewarded in good time and not instantly and that you should always stay informed of updates to ensure your SEO game stays strong.