Search Knowledge Base by Keyword
Configure The Elastic VPS
The installation flow and major management options of all the supported Virtual private server types at UKHost4u such as CentOS, Ubuntu, Debian, and Windows are similar to each other. Follow the instructions given in this article to host and configure your Elastic VPS via the UKHost4u PaaS platform. You will know how to;
Establish VPS
Scale the servers
Handle instances
Install Elastic VPS
Follow the steps stated below to set up your VPS within the UKHost4u dashboard;
1 . At the top of the UKHost4u interface, click on the New Environment tab.

2. In the bottom-left corner of the Environment Topology wizard, click on the VPS tab, and select the preferred VPS from the drop-down menu.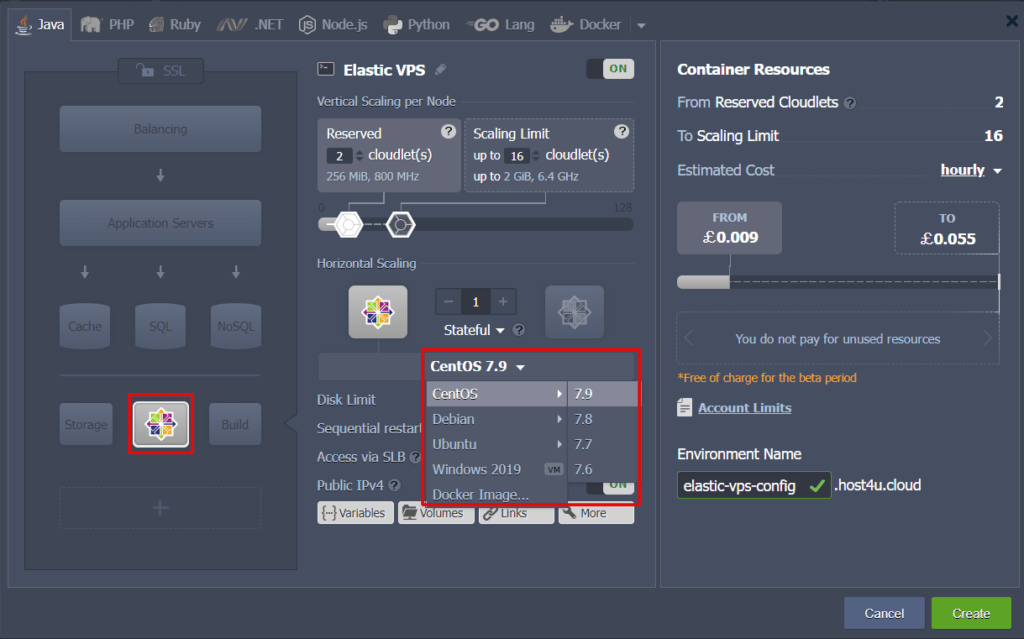 Mention the limit of cloudlets for this node and scale it out if needed, enter the name of the environment, and then click on the Create tab to proceed.
3. Your newly made environment with the selected virtual server will display on the interface in a few moments. You will also be notified with an email for the same along with its administration data.

Furthermore, you can see the Public IP address straight in the UKHost4u dashboard. Click on the Reset password tab in case you have lost your VPS server, or want to modify the admin information. For reference, see the image above.
Elastic VPS Scaling
UKHost4u provides vertical and horizontal automatic scaling of resources which enables Flexible VPS hosting. The scaling can be effortlessly tuned while creating a new environment or adjusting the older one.
The system's capability to supply needed resources because of traffic load ensures Automatic Vertical Scaling. Along with this, you can also select scalability limits for your server that avoids outages at the time of unpredicted load spikes and at cost-effective hosting.
For scaling your environment, it is important to increase or decrease the maximum number of available resources such as cloudlets by moving the cloudlet toggles in the vertical scaling per node segment.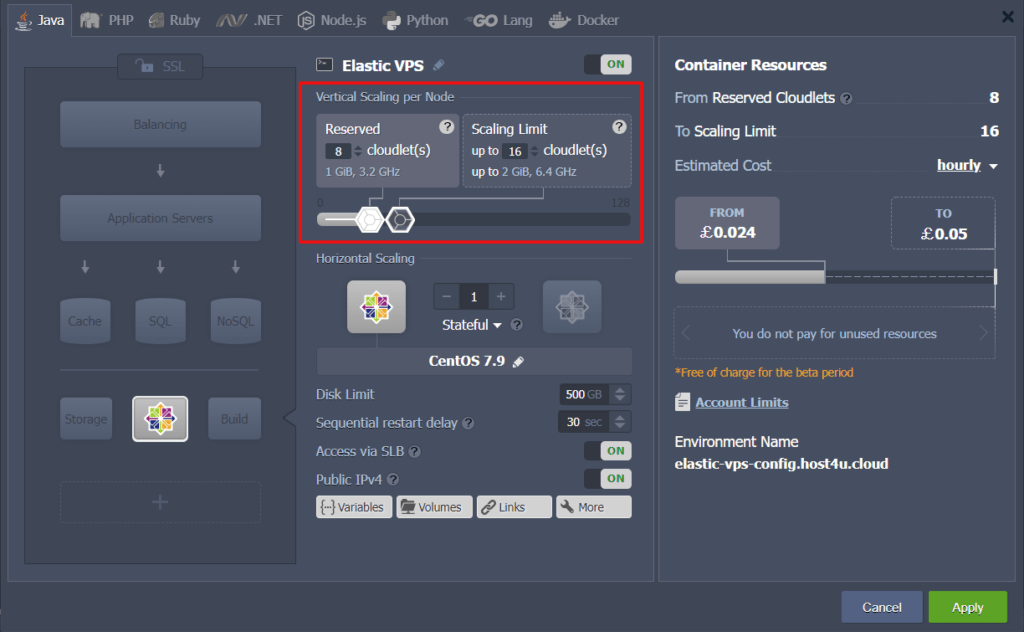 The horizontal scaling feature at UKHost4u lets you effortlessly alter the number of servers within your environment with the help of suitable '+' or '-' buttons. Here you can also choose the desired mode of scaling.
Stateless: In this mode, all the new nodes are created from a base image template side-by-side.
Stateful: In this mode, the file system of the master container is copied orderly into the new nodes.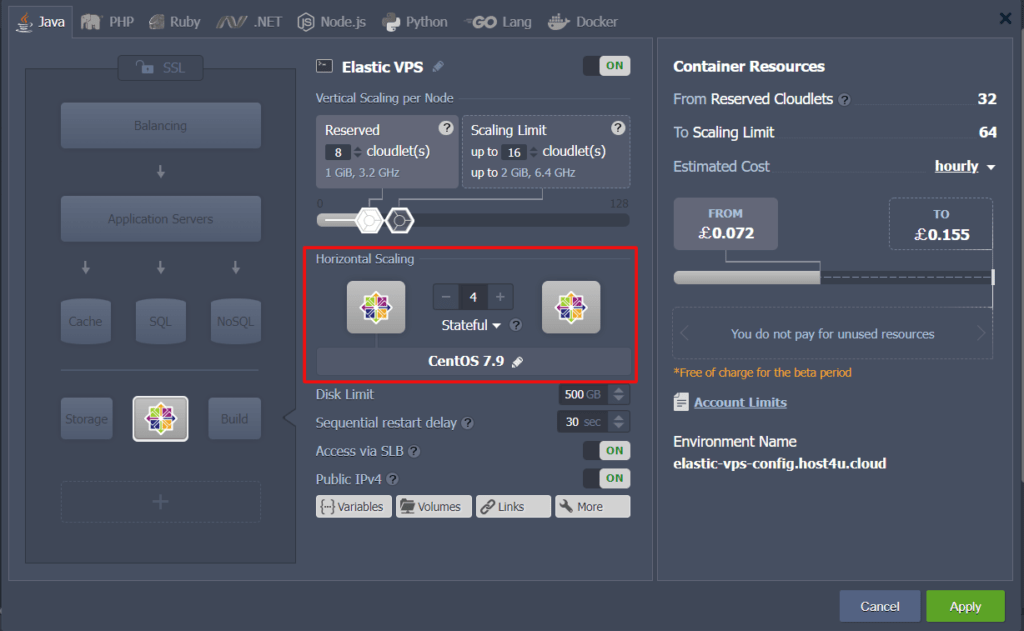 Ensure that you apply the changes you have saved.
Elastic VPS Built-In Tools
The user can perform the most common and basic configurations on your VPS server directly on the dashboard through a set of built-in tools, supported by UKHost4u.
File Manager
The built-in configuration file manager is designed to handle files (create or delete, upload or download, edit) within your container and set up mount points too. It also manages the exported data.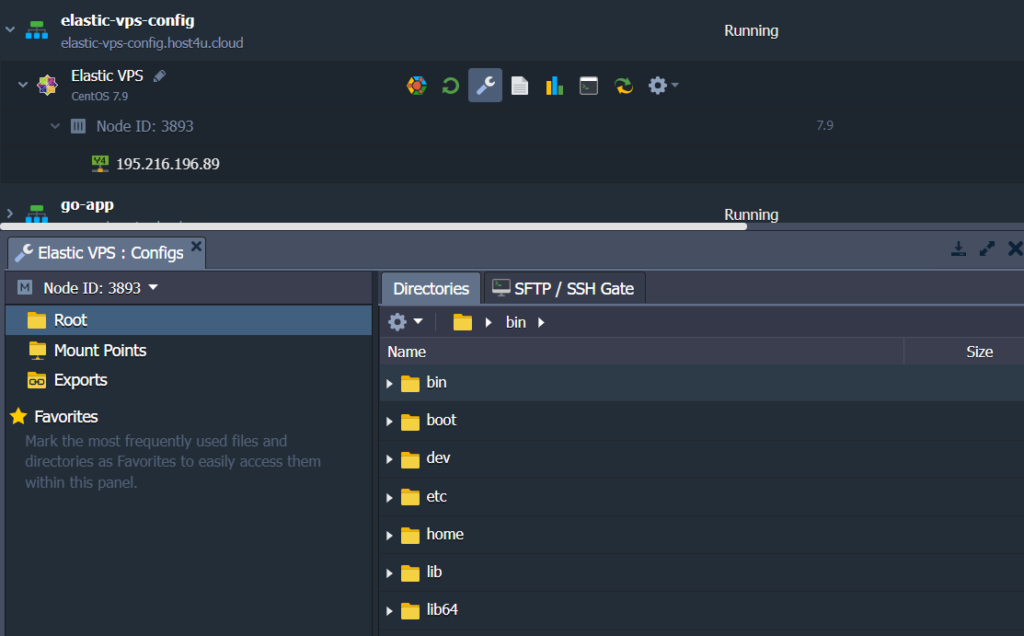 The most suitable tab can be launched by pressing the Config button next to the important VPS node.
Log Files
For the efficient management of your VPS, Logs tracking is a very productive option. Here, data on all instances of your container's lifecycle is piled up, which will prove user-friendly during troubleshooting and resolving problems with your applications and services.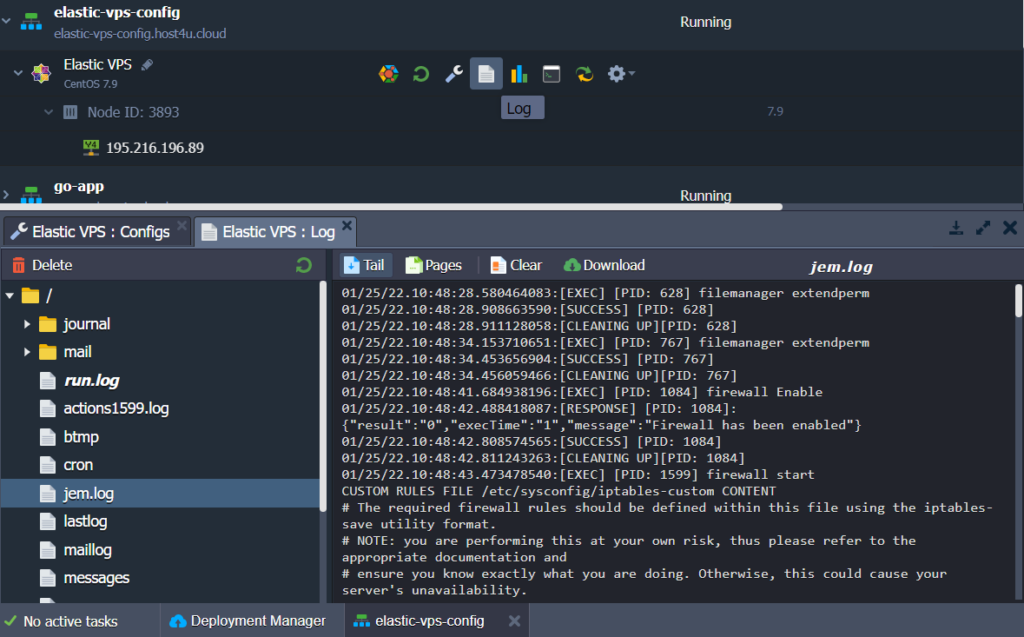 A suitable segment can be opened by tapping on the Log button corresponding to the important VPS node.
For tougher configurations, you should link to the VPS server over the UKHost4u SSH gate or create a direct SSH link via Public IP