Search Knowledge Base by Keyword
How to Check Website Access Logs in cPanel
What are Access Logs?
Access logs are the list of all the requests for each individual file that has been requested from a website. These files can include the HTML and other associated information within the website that is accessed. In other words, it contains information about the visitors on your website and what content they have accessed.
If you are having issues with your website or just wanted to check and review the website traffic, you can access the logs within the cPanel.
First, you need to login to your cPanel account.
Locate and click "Raw Access" under the Metrics section.

You will then be redirected to the Raw Access screen. From there, you will see the options to Configure Logs, Download Current Raw Access Logs, and Archived Logs.
By default, these to configurations are checked. Log files are archived in your Home Directory from the server every 24 hours and will be removed every end of the month to save storage space. You can modify it using the checkboxes.

Below the Configure Logs, you will see the Download Current Raw Access Logs where you can download the recent raw access logs for the domains and subdomains that are listed. Just click on the links for your specific domain or subdomain.
Note: Raw logs may only contain a few hours' worth of data because they are discarded after the system processes them. If archiving is enabled, the system archives the raw log data before the system discards it.

Next, you will the the Archived Raw Logs for the previous months. Just click on the domain or subdomain with the specific months you wanted to download.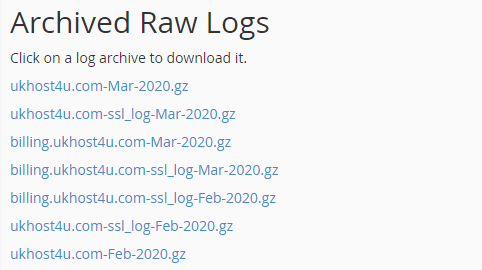 You will need to extract the downloaded files using an archiving tool such as WinZip, WinRar or 7-Zip.
Once extracted, you can open the files using your favorite text editor.
What are the contents of the Raw Access Logs?
Website Visitor's IP address
Date and time stamp of the access
HTTP activity sent by the visitor's browser (GET or POST)
Resource file that has been accessed
Identity of the user-agent that shows how the user accessed your website