Search Knowledge Base by Keyword
Versions Of Java
While setting up an environment in UKHost4u, you can select the distribution and version of JDK you wish to run;
AdoptOpenJDK: 8.0_312, 11.0.13, 16.0.2
Amazon Corretto: 8.312.07.1, 11.0.13.8.1, 15.0.2.7.1, 16.0.2.7.1
Eclipse OpenJ9: 0.27.0-16.0.2, 0.29.0-11.0.13, 0.29.0-8u312-607
Eclipse Temurin: 8.0_312, 11.0.13, 17.0.1
Liberica JDK: 8.0_302, 11.0.12, 16, 17
Oracle JDV Dev: 8.0_202, 11.0.2
Oracle OpenJDK: 8.0_312, 11.0.13, 17.0.1, 18.ea-b31
Zulu Community: 8.0_312, 11.0.13, 13.0.9, 15.0.5, 17
You can choose the desired version during the creation of an environment, or modify it later.
1. First of all, log into the UKHost4u interface and then click on the New Environment tab in the upper-left corner.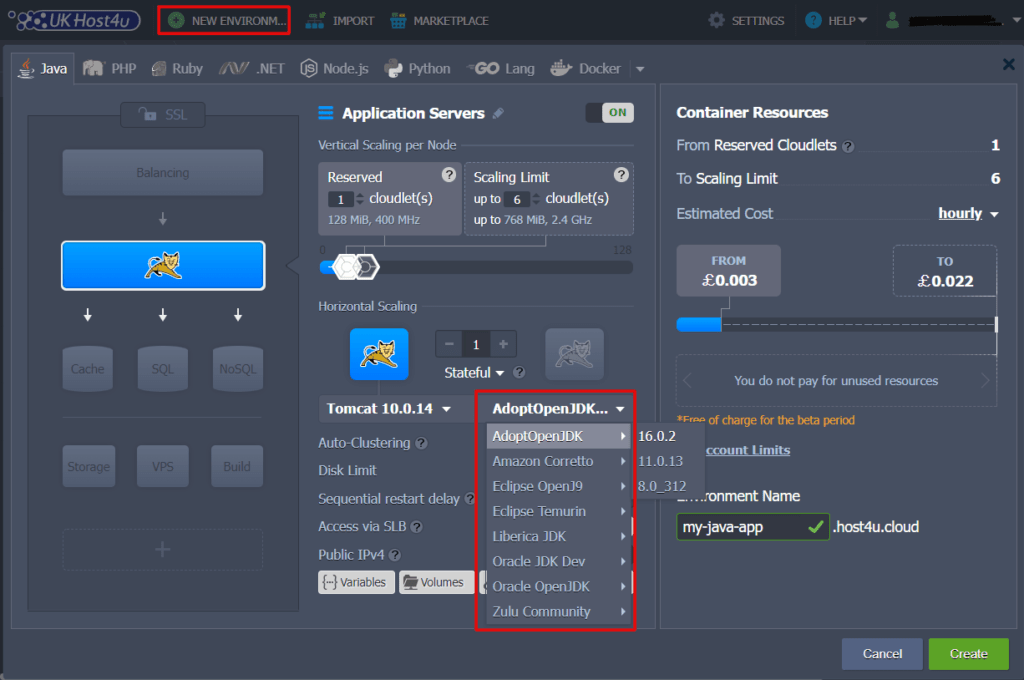 From the Topology wizard, click on the Java tab and then select the preferred application servers, and versions of the engine. See the illustration above.
2. For modifying the version of Java in the existing environment, redeploy the suitable containers.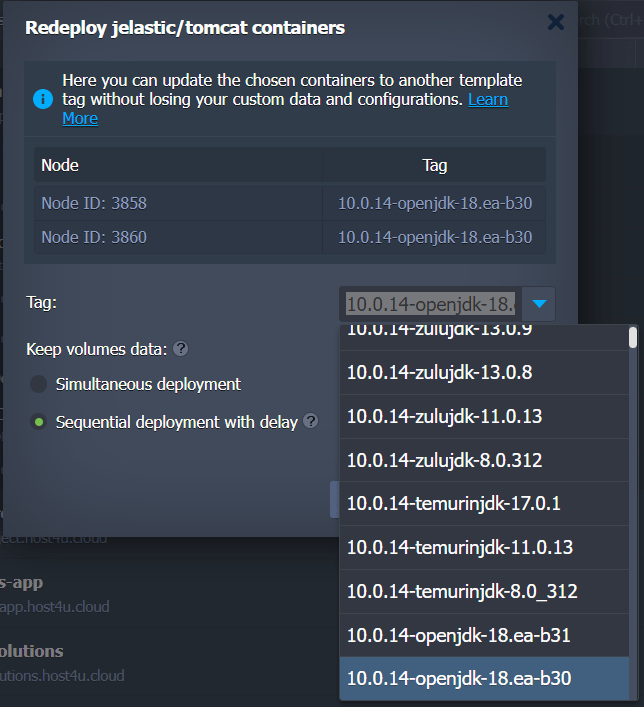 3. Just choose the needed tag and then click on the redeploy button.
4. Confirm your action in the displayed pop-up box and wait patiently for the changes to apply.