Search Knowledge Base by Keyword
Export Environment
The UKHost4u platform lets you conveniently shift environments among Clouds to find out which one fulfils your requirements the most. This process comprises 2 main phases;
Export of the already existing environment.
Import
Both of these phases are a matter of a few minutes. You will get a similar ready-to-work copy of your environment running at another UKHost4u installation.
Steps For Environment Copy
While you export an environment, all the information related to it such as deployed applications, topology settings, links to the archives with configurations and the private data it has, etc is encased in a .json file. The small JSON package is easily downloadable to your local computing device and can be stored or deployed at another UKhost4u platform.
Log into your UKHost4u account and follow the steps mentioned below to create a copy of your environment;
1. Hover on the environment you want to export, and click on the Settings icon.

2. From the Settings window, navigate to the Export category and then click on the same-named tab.

3. Now, an Environment Export window will display on your screen. It is totally up to you what items you wish to export;
Topology Settings: The configurations you have made using the environment topology wizard.
Private Data: files in the directories of the applications you have deployed and private information stacked in your database servers.
Configuration Files: all the files that you can access using the configuration manager on your dashboard. Also, the deployed GIT/SVN projects' settings.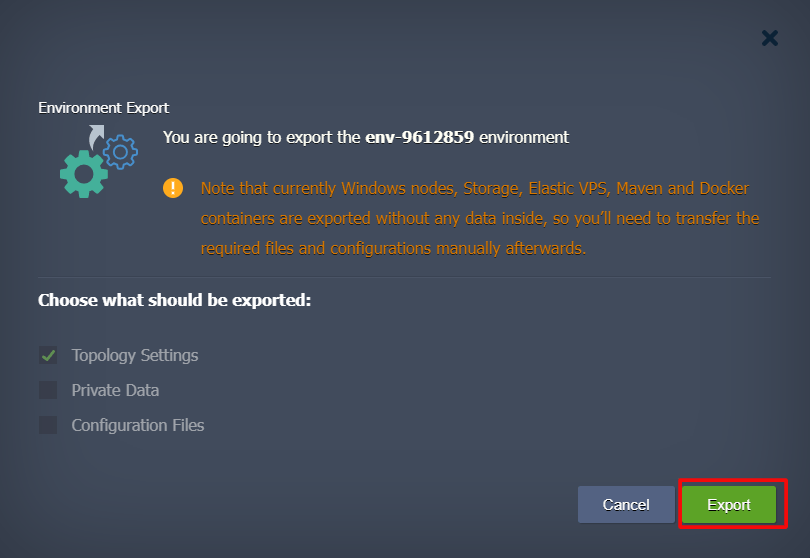 Click on the Export tab once you have specified the
4. After finishing the Export successfully, a new clickable link will display on the Exported Environment Copies list. Choose it to download the compiled .json file with exported environment data to your local computer. You can also right-click on the link to directly copy the URL to the manifest.

With this, you will also get a suitable email notification along with the link to the list of your exported environments.
Congrats! You have successfully exported your environment copy. After this, move on to the importing of this environment on the targetted platform to finish the migration process.