Search Knowledge Base by Keyword
How To Set Your WordPress Blog To Private
Setting your WordPress site to private can be useful in certain scenarios, but is most commonly used when you want to discourage search engines from indexing your website.
Below are the steps to set your WordPress blog to private –
1. Log in to the WordPress administration dashboard
2. Navigate to Settings > Reading.
3. Click the tickbox for Discourage search engines from indexing this site.
Setting WordPress posts to private
Another method of keeping areas of your site private is to set individual WordPress posts to private, which will prevent users who don't have permission from viewing the page.
Navigate to Posts, and click edit on the post you wish to make private.
Now go to the top right of the post and click the Document tab. If you then click Public in the Visibility area, you'll be able to choose the visibility of your page.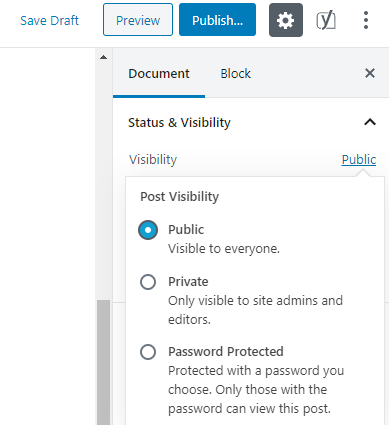 Once you've chosen the visibility level for this post, click Save Changes to make the post private.