UK's Best Kubernetes Hosting
Kubernetes
Take advantage of the extensive potential that Kubernetes unlocks. We offer a pre-packaged cluster solution, with it's own administrative interface making management easy.
Try Free for 14 days
Managed Kubernetes Hosting
Pre-Installed Components

High Scalability

High Availability

Pay-Per-Use Pricing
Managed Kubernetes Hosting
Fully automate the setup of your Kubernetes cluster using our simple, easy to use platform.
Add and remove as many clusters as you need for quick and easy deployment.
Production-Ready Environments
Containerise your existing applications and run hyper scalable microservices to keep them resilient to failures
Improve development with purpose-driven disposable clusters, allowing full ownership and resource allocations
Easy integration of a wide range of cloud native K8 services with automatic scaling on our cost-effective pay-per-use pricing.
Support for a multiple Ingress Controllers and Kubernetes Dashboards with topology designer for Development and Production builds.
Out of the box components
CNI plugin powered by Weave for overlay network support, and Traefik ingress control for routing HTTP(S) requests.
HELM package manager for installing pre-configured products, and CoreDNS for internal host name resolution
Kubernetes Web Dashboard v2 or K8Dash with SSL protection for ingress network traffic.
Support for dedicated NFS storage and dynamic volume provisioning with options to install Prometheus, Grafana & Jaeger tools.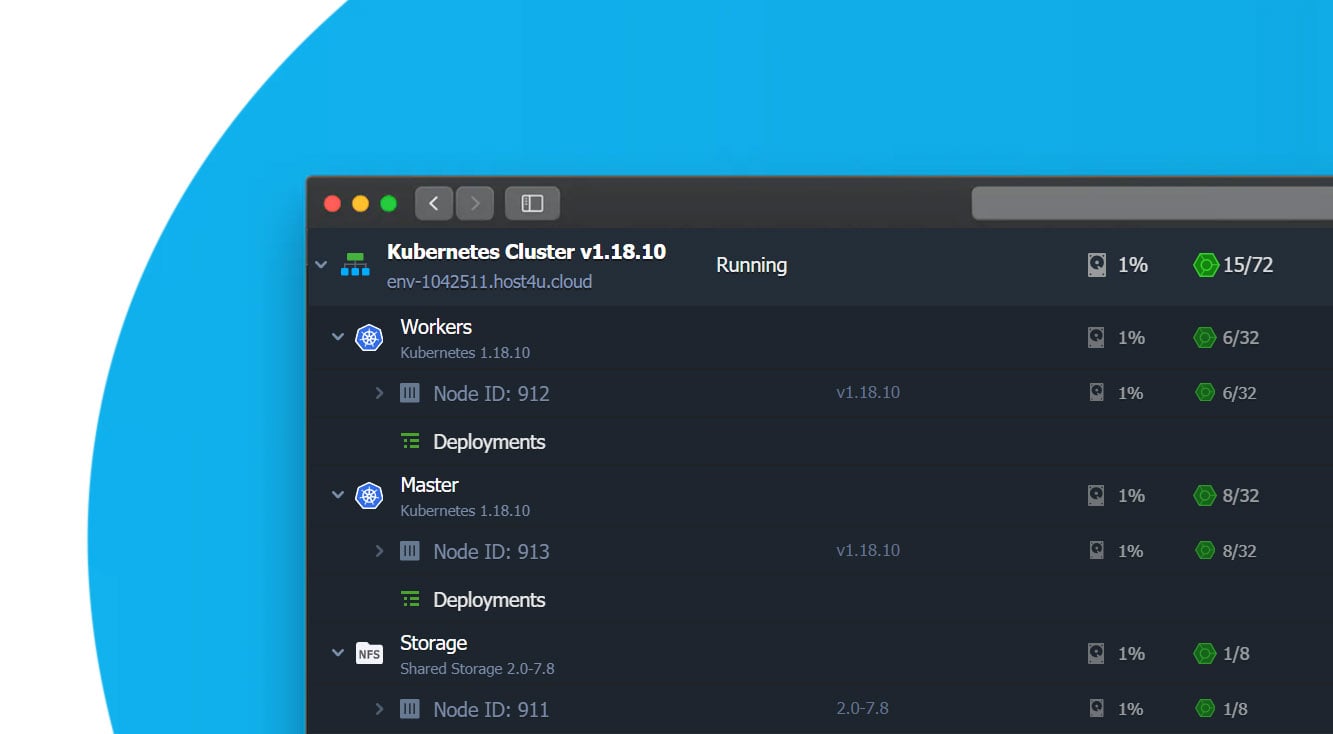 Built to scale in the Cloud
Automatic vertical and horizontal scaling with the option to add triggers for CPU, Memory, Network and Disk I/O. New Workers are automatically connected.
>Build for development with one master and one or more scalable workers, or a production environment with multi master (3) API Balancers (2+) and scalable workers (2+)
Automated rollouts and rollbacks with service discovery and load balancing including support for Ingress Controllers: Nginx, HAProxy & Traefik
SSL, Load Balancer, Autoscaling, Shared Storage and VPC Network features with unlimited Worker's and User Application Pods.
Try free for 14 days
Benefits of Kubernetes Hosting from UKHost4u
Automated installation, scaling, updates and pay as you use billing simplifies the management and support of your deployment.
Easy Setup
Automated installation in several clicks with simple options
Scalability
Clusters can be set to automatically scale, both vertically and horizontally
Availability
Add and remove nodes on demand or using automatic triggers
Simple Management
Management via intuitive GUI's and built-in SSH access
Flexible Development
Implement automated application delivery with CI/CD automation
Cost Efficiency
Pay only for real consumption, not for unused resources
Free 14 day Trial
Flexibility of UKHost4u Scalable Cloud User Interface for Developers
Pay As You Use - Pricing
Only pay for your real consumption, not the total server size. With UKHost4u you pay based on the Cloudlets you use hourly.
Active Cloudlets:
Instant dynamic scaling of resources for your application, you only pay for what you use.
You can limit your scale using the topology wizard and set the maximum allowed per server.
Active Cloudlets
Cost per Dynamic Cloudlet
Per

Hour

Per

Month

Discount
1 - 7
-
£0.0037
£2.71
0%
8 - 15
-
£0.0033
£19.48
10%
16 - 29
-
£0.0030
£32.47
20%
30+
-
£0.0026
£56.81
30%
Reserved Cloudlets:
These cloudlets are reserved for your personal usage (using the topology wizard).
You pay a small price to reserve them but at a lower rate to active cloudlets.
Reserved Cloudlets
Free
Cost per Reserved Cloudlet
Per

Hour

Per

Month

Discount
1 - 7
-
£0.0030
£2.16
20%
8 - 15
-
£0.0026
£15.15
30%
16 -29
-
£0.0022
£24.35
40%
30+
-
£0.0019
£40.58
50%
Disk options
Disk space is charged hourly per GB of disk space used in your environment.
| Disk Used | Price per GB / Hour | Price per GB / Month |
| --- | --- | --- |
| First 5GB | FREE | FREE |
| 5GB Upwards | £0.0002 | £0.146 |
Traffic Usage Options
Traffic usage is charged hourly. The discount level is based on the amount of external traffic used per environment in the previous month. Internal traffic is absolutely free!
| External traffic last month | Free / hour | Price per GB |
| --- | --- | --- |
| 1GB - ∞ | 2GB | £0.03 |
UKHost4u SSL
This is a protocol which establishes a secure connection between your client and your UKHost4u environment. The charge is taken hourly.
| Name | Price / Hour | Price / Month |
| --- | --- | --- |
| UKHost4u SSL | FREE | FREE |
External IP
This is an external IP address which is directly accessible from outside of the cluster. The charge is taken hourly.
| Options | Price Item / Hour | Model Item / Month |
| --- | --- | --- |
| Public IP-Enable Container | £0.0028 | £2.002 |
Affordable Cloud Pricing
Pay only for the resources you actually use, and not a limit you'll never reach.
Full pricing is clearly displayed on the topology wizard allowing you to keep full control of your budget.
Why choose UKHost4u's Scalable Cloud Solution?
Our optimised configuration process saves your team time when deploying applications, both for development and production environments.
Free 14 day Trial
Fully integrated cloud storage
UKHost4u cloud infrastructure takes advantage of fault-tolerant, multi-machine storage clusters which support a highly flexible, distributed storage solution that can scale to your needs.
All volumes are automatically created and attached to your worker nodes which run your pods. We only use 100% solid state storage for the highest possible performance and speed.
High-available infrastructure
Using UKHost4u advanced cloud your Managed Kubernetes cluster will be scaled over a number of servers for fault tolerance and load distribution. Using advanced monitoring we are able to provide you with the best possible uptime and highest performance.
As projects grow, we take care of adding all the physical infrastructure and all the management tasks to maintain the best possible performance.
Cluster management and billing
We provide all customers with a central control panel to conveniently manage their Kubernetes deployments, including the option to provide additional team members with access based on set rules. Using this platform you can clearly see your billing and usage information.
You can also manage your Kubernetes cluster using a large range of tools, all of which can be setup with just a few clicks from our control panel. You also have full access to Kubernetes Dashboard to oversee the internal workings.
Try for 14 days