What is an Enterprise Cloud? Get The Full Picture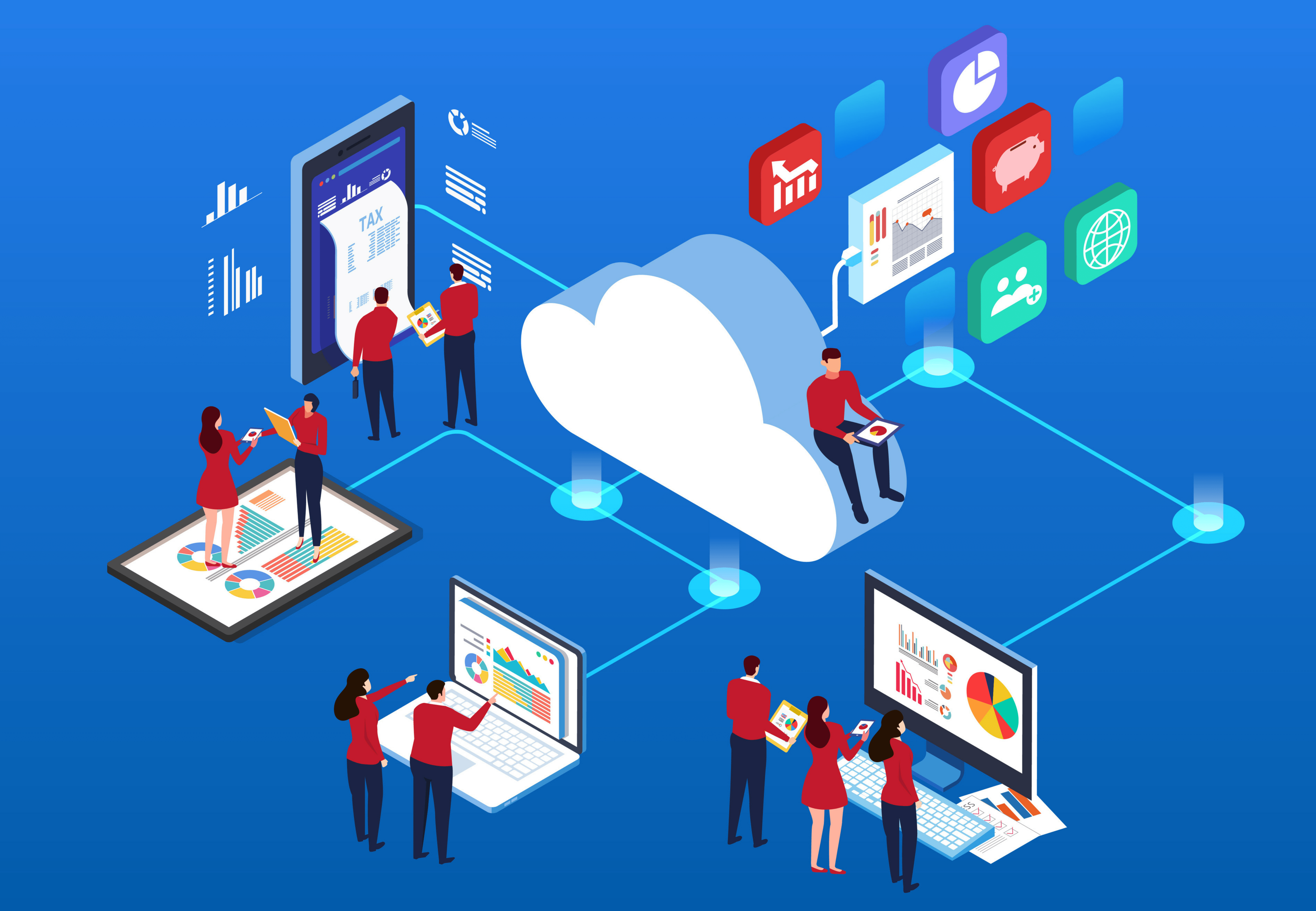 Large organisations require robust and reliable website hosting to ensure they are able to deliver a seamless experience. In the past, the best option available would be to invest in the infrastructure to host your website or application on your own servers, but cloud computing has changed all of this.
Rather than pay for your own servers, upkeep and maintenance, it is now possible to hire the space that you need on a flexible model. Cloud servers offer additional benefits over managed servers as they allow for resources to be duplicated over multiple sites to ensure maximum uptime. 
What is an enterprise cloud?

Cloud computing is at its core a software rental model. The consumer or enterprise becomes the customer of the cloud provider, while the cloud provider becomes the supplier. Typically, customers are given access to computing resources over the internet, which include storage and processing power.
The providers of these resources are typically organisations that specialise in hosting services on large-scale data centres, such as Amazon Web Services or Microsoft Azure.
The customer gets to use these resources at any time they want without having to worry about hardware maintenance or other IT responsibilities. A big advantage here is that accounts can be scaled up and down easily depending on where their business needs lie.
An enterprise cloud is a combination of private, public and distributed clouds that offers the best of all worlds. This ensures a high-performance and high-availability service that navigates around many of the common pitfalls of individual cloud server formats.
Which organisations can benefit from enterprise cloud?

Any company with large computing requirements can make the most of enterprise cloud services. This includes industries including healthcare, retail, manufacturing, financial services, government organisations and more. The rise of enterprise cloud use is often driven by IT departments that need to modernise their existing data centres.
They are often looking for the benefits of the cloud, but with the added flexibility that comes with controlling the infrastructure. Enterprise cloud bridges the gap between the two and makes it an obvious choice for companies and organisations that need to modernise. Likewise, business owners that are looking for scalable solutions to bring their product or app to market will often choose enterprise cloud solutions.
Benefits of enterprise cloud solutions

Enterprise cloud allows organisations to make the most of the best aspects of both private and cloud computing. It offers peak performance with considerable savings, which makes it an ideal choice for growing businesses looking to make the most of the opportunities available to them.
When scaling a business, agility is key to keeping costs under control while meeting the changing demands of a growing customer base. If you're considering a move to an enterprise cloud system, consider the following important benefits.
Reduced expenditure
Perhaps the most obvious business benefit when switching to enterprise cloud solutions is the possibility to save money on hosting costs. When switching to a hybrid model, organisations can make the most of the benefits offered by on-site infrastructure without the associated cost of purchasing, maintaining and updating equipment.
And this isn't the only way that companies can see their hosting costs reduced with enterprise cloud solutions. This hybrid model makes it possible to only pay for what is needed, ensuring companies can scale without paying over the odds for the support. When demand spikes, enterprise cloud solutions make it possible to meet demand, but without increasing pricing ceilings.
Improved compliance and security
Data security and compliance with international regulations is an ongoing headache for large organisations. When working with an enterprise cloud solutions provider, companies have the confidence of knowing that these essential steps have already been considered and taken care of.
A security breach can be costly – both from a regulatory and a reputational standpoint – but enterprise cloud solutions limit the exposure to this risk. A good enterprise cloud provider will help organisations to stay ahead of the game by introducing risk assessments and identifying potential threats before they can become problematic.
Cutting edge technology
Hosting technology is always moving forward, which leaves organisations running their own hosting infrastructure with a unique challenge. Staying on top of the latest trends can be a costly business, particularly when taking a chance on technology that might not become the industry standard. 
By using an enterprise cloud solutions provider, organisations can benefit from their expertise and industry knowledge to ensure the technology is always cutting edge. Enterprise cloud providers can take a chance on new technology while ensuring that their customers are protected from any price rises as a result of their investment.
On-demand access
When we talk about the benefits of enterprise cloud solutions for businesses, we often think about the bigger picture. But it's important to remember how day-to-day operations are improved with the help of this technology. Cloud technology ensures that everyone within an organisation has access to the data they need at any time from anywhere.
As companies switch to a hybrid work model of being in-office and working from home, the need for a robust cloud system that allows their employees to access the information they need from anywhere is essential. Collaboration becomes easier and more secure when organisations make the most of the enterprise cloud.
Customisable to your needs
Meeting the growing needs of your company hosting and data infrastructure can be a headache. Without the enterprise cloud, organisations need to be constantly monitoring performance to determine when upgrades and hosting expansions are required. Enterprise cloud computing is flexible to your needs and often automated, so no monitoring is required.
This can help to reduce workload for your IT department or allow you to outsource your IT department entirely. By trusting your enterprise cloud provider with this aspect of your business, you'll benefit from their expertise and ability to deliver unparalleled support.
Environmental impact
Enterprise cloud service providers are able to focus on reducing their environmental impact and passing these benefits on to their customers. This gives organisations peace of mind knowing that they are doing everything they can to limit the impact of their hosting needs.
How to choose the best cloud solution for your business

When choosing the right cloud provider for your business, it's important to consider your current needs alongside where you hope to be in the future. Since enterprise cloud computing offers cost-effective benefits over other popular solutions including public cloud and self-hosting, establishing this early in a businesses lifecycle makes good financial sense.
Another key aspect to consider when choosing your cloud solution provider is the level of support available. Enterprise cloud solutions will typically include round the clock support that may allow you to close or redeploy your IT department. A dedicated account manager and round the clock monitoring will help to ensure you are able to access the information you need at all times.
You should also consider the geographical location of any physical servers. If you plan to duplicate your resources over multiple sites to ensure increased security and accessibility, then having the option to choose from different locations will be a distinct advantage.
Security and regional compliance with regulations should also be key considerations. If choosing a hosting provider in another territory, you run the risk of not being completely compliant with local rules. Always check with your legal counsel before moving forward to ensure you aren't exposing your business to unnecessary risk. The provider should also offer airtight policies that protect your interests. Service level agreements should be reinforced with disaster recovery and business continuity plans. These essential components of the agreement will help to protect your business, your customers and your reputation. 
And finally, you should also consider what your hosting requirements might look like in one, five and 10 years. Think about the scalability of the service and determine if the cloud hosting provider will be able to keep up with your growing demands. 
Self-imposing limits on your growth by choosing a cloud hosting provider that will not be able to keep up with your growth is bad business sense. Instead, choose a company that invests in technology and growth so you can be confident they'll still be at the forefront of the cloud hosting industry for years to come.
How to switch to an enterprise cloud

If you are thinking about making the switch to an enterprise cloud provider, you should make the most of the migration tools available to you. Moving sensitive resources to a new provider is not a task that should be taken lightly. The migration process will require careful planning and input from all corners of your organisation.
By working with a managed hosting provider, you'll benefit from excellent support from day one. This will enable you to create a migration plan that will minimise disruption to your business. You will also benefit from the aftercare support that will ensure mistakes in the migration process are spotted immediately, rather than waiting until they become problematic.