(10+1) Sureshot Ways To Tackle Cart Abandonment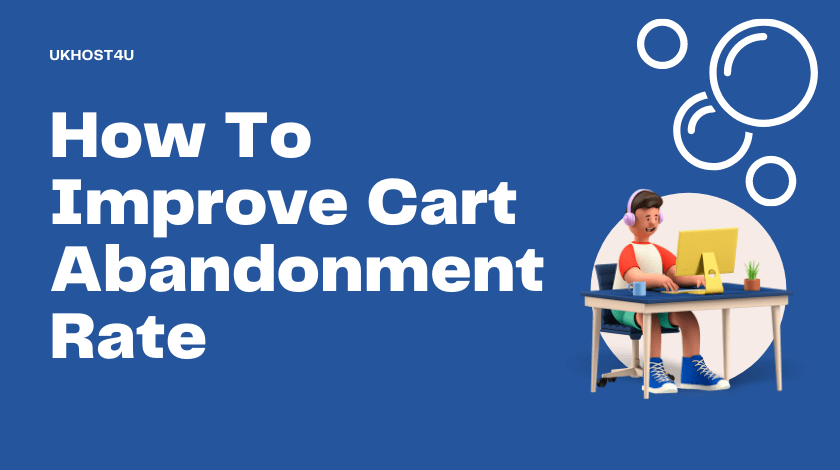 Do you want to learn how to improve cart abandonment rate in 2021. Then read on!
Well, I love my dad. Everyone does! And he too reflects it back most of the time :D. I try my best to convey my love for him time to time.
Spoiler: It doesn't work every time!
It was his 50th birthday and I baked his favorite cake, (Vanilla, if you are curious about the flavour)
I waited eagerly for him to come home and get a nice pat on my back. As expected, he was happily surprised as soon as he saw the cake. So far so good!
Aaand, all of a sudden, he started yelling at me over an open window which led some flies to sneak into the room. He turned mad at me and everything just changed.
I do admit that I forgot to shut the window but Come 'on!
I arranged so much for him which he doesn't even know and now he is mad over me to just leave the window open! Honestly, I felt like throwing away the cake out of the window. That night, I got to know about all the skills that I lack. Thanks to his monologue!
To all flies, mosquitoes or bugs, from the depth of my heart, "DIE SUCKERS!"
Hold on a sec! Are you thinking about how this is related to shopping cart abandonment? Let's try doing that.
Assuming that you are concerned with high cart abandonment rate on your own site, let me ask you two questions.
First, what kind of efforts are you putting to sell on your site?
I swear I won't judge you but most probably you might be doing few or all of these:
Running social ads on multiple platforms.

Giving away offers and discounts.

Email marketing.
Second, after investing such time, money and effort, how do you feel when your customers reach your site, adds product in the cart but never checks out?
I am sure you can relate to the pain I have been through in my story above. After doing so much of planning for your customers, they just get distracted by something or the other, never to come back to your shopping cart. Seems like all efforts in vain.
Call it shopping cart abandonment when your customers add something in the cart but never proceed to the checkout page and complete the transaction. What worse than this can happen to someone who is simply trying hard to make a sale?
This is common and happens all the time no matter if you're one of the Amazons or that tiny store behind the church. If the Earth revolves around the Sun, then shopping cart on an e-commerce site gets abandoned all the time. Simple!
As of June 2018, Baymard Institute retrieved SaleCycle data which reported a shopping cart abandonment rate as high as 75.6%.
See, I told you. You're not alone. It's happening everywhere.
The million dollar question is Can we get rid of shopping cart abandonment?
Whoa! Not that fast mate! We'll come to that later. First, let's get certain facts straight.
You cannot avoid it completely!!
Yeah! Ugly, bitter and brutal! This is going to happen on any and every e-commerce site out there including yours no matter even if you manage to pull some strings and make Michael Jackson to perform his great moonwalk on your checkout page!
You can't control this activity on your site, just like you can't control 'Pokémon Go' lovers unless you're a mutant like Professor X!
The primary reason why you're not able to control it is (apart from you're nowhere near Professor X), you don't know what your customer's intentions are.
Forget about other customers. I will explain my behavior as a customer on an ecommerce site. I don't always buy products I view on a site. I might be looking for what's on offer, what's newly added by category or add a product to cart just to not lose track of it and then continue to browse for similar products or even alternatives.
With technical gadgets and consumer electronics, I am guilty to the level of Pablo Escobar from Narcos! That's because I don't have anything on my mind to buy when I start browsing. I randomly keep adding these products and do further research before deciding which one to buy. These gadgets are so new that you hardly know such things exist!
Overall what I mean to refer is the customer buying cycle i.e.
Awareness:

When people are nowhere close to make a buying decision and are just browsing around to know about products.

Consideration:

One step closer to make a decision but still considering more from alternatives or related products.

Research:

In this stage, even if they've shortlisted a product, they might be checking out other sites for the same product to get offers or discounts or compare the prices. They might even be searching and reading user reviews and ratings for the product.

Purchase:

This is where the action happens for the retailer. After all the money flows to the account.
You won't be able to know exactly why they abandoned your cart:
Your customers can leave the shopping cart for any freaking reason.
Last time I abandoned my Amazon shopping cart after adding 3 items. I did that to close the damn window before the flies could enter my room. Sorry Amazon!
You can do your permutations and create a laundry-list of all possible reasons for cart abandonment but you'll never know the exact reason why a particular customer abandoned the cart.
In my story above, the flies and that open window were the distractions but somehow I am also responsible for this.
Now while I go through the below 11 ways to tackle shopping cart abandonment one by one, you can identify where you might be going wrong and try to save your time, money and effort.
1. Tweak up your website design
This is of serious concern. Nobody would like to solve mysteries and puzzles in order to navigate through your site. In other words, if your website UX is crappy, then forget about users navigating comfortably and then successfully placing order.
Just imagine yourself in a website where you don't know what to click next or where to go next.
Ask yourself if you're ever going to return to such a website again.
Your site should offer your customers a very logical, smooth and seamless navigation that poses no difficulty in browsing. This will ensure good conversion rate on your site.
Make a responsive design with cross device compatibility.

Keep a logical sitemap with clearly defined menu.

Call out and highlight your Call-to-Action buttons making it clear to your customers about what you want them to do.
2. Bid bye to complicated and long checkout process
In a similar report by Baymard, it is shown that the safest number of steps for an ecommerce site is to have 4-6 steps and not less or more than that.
Your customers have already browsed through number of pages in your site to check different products before reaching the check out page. Now from here, you cannot risk your purchase by putting unnecessary steps within the check out process. They might lose their patience and just leave your cart forever!
You have to ensure that your check out page is linear and properly sequenced with meaningful number of steps only. Your check out page cannot look like your intern showcasing his web programming skills. It simply doesn't work that way. You cannot afford to have a diversion from the highway to purchase.
3. Understand the importance of security badges and trust factor
No security badges, no trust factor- That means you're the bad guy!

Your website trust depends upon multiple factors.
Good ways to have a better trust score for your site is to avoid having:
Broken links or missing 404 page errors

A UI and UX design made during the World War 1

Page content which is full of errors and grammatical massacre
Apart from all these, there are security badges that you can enroll for and then add to your site especially on your check out page.
These badges from these providers will help in increasing your site's trustworthiness among your customers. At least they'll know that they're in safe hands and their payment and other privacy details are secured. This will ensure that none of your customers are treating your business as a scam.
In my opinion, it is better to have lesser sales than being called a SCAM.
One more way to increase the trust factor is to add original and genuine product reviews from your own customers who bought the products earlier from your site.
And please do not fake it or pay somebody to keep writing flowery things about your products.
Remember that there is always somebody smarter than you.
Valid and genuine product reviews will help your customer base to grow and obviously increase your sales.
4. Allow your customers to guest checkout
Not allowing guest checkout, is a conversion killer. I have been a victim to this myself and this feels just bad, terribly bad!
I spend time browsing through 100s of products, do my habitual research and then calculate my finances and when I am ready for placing the order, I find no way out other than filling up a long form asking me of every details possible.
These forms are just one step far from asking me the zodiac sign of my neighbors!
I eventually close the tab entirely and leave.
This can happen to your customers if they aren't previously registered and you offer no guest login to them.
Ask yourself, what's your priority? Is it sale or a record in your user database?
It's definitely good to have registration but you shouldn't be forcing.
5. Ensure that your website is speedy
Do you know around 53% of mobile users hate waiting for more more than 3 seconds to load a web page? If your website is facing a huge amount of visitors (due to some holiday sale or a new product release email), the speed can be a huge deal breaker.
Additionally, a slow loading websites leads to frustration, ultimately resulting in poor customer experience. We all know, the end result of this is abandoned shopping carts!
As said by Forbes, even a delay of 1 second in website loading time can reduce sales by 7%, you better not ignore this factor.
Now that you have understood the value of a lightning fast website, you need to identify possible causes behind a slow loading website. Some of the common ways you can improve website loading time is:
Combine stylesheets

Compress images

Delete unnecessary plugins
If you still can't figure out the problem, you need to give your hosting a second thought. For eg, if you have chosen a shared web hosting, it can be the reason of slow loading website.
Additionally, if your web hosting is the reason behind slow website, other aspects like tech support, storage capacity, etc will also be affected.
So if your web host is the culprit, select a better one right now before your website grows to a stage where you are desperate for a better solution. Choose your web hosting wisely. As soon as you have chosen a fast hosting, you will start noticing the results.
6. Don't surprise your customers with any hidden charges
(Knock knock!)
Who's there?
Hidden charge!
Not happening!)
You have to be very transparent on any kind of charges that you're going to add and it is better when done upfront. Your customers would never like to pay for any unexpected charges and even for a shipping charge In that case.
Speaking about shipping charges, have you heard of the site called wish.com? I do browse their app on my android phone just because their products are sometimes unique and competitively priced. This is about my personal experience on their app. Most of the time, their shipping charges are way higher than the actual product cost. This is both surprising and funny.
Obviously, I didn't order such products. 🙂
7. Don't limit payment mode options
In the period that we're living in, we can't even think of living without digital mode of payments.
The catch is that there are plentiful options and obviously you should try to have more of those integrated on your site. Mastercard and VISA alone won't be enough to cover all of your customers.
If you're eyeing global market then it's compulsory to have multiple payment options on your
site based on those options which are popularly used in that country. These days COD has replaced COD.
Funny, eh?
I mean, Card-on-Delivery has replaced Cash-on-Delivery thus making it comfortable and assuring to skeptical customers.
There are many other popular options like American Express, PayPal, Google Wallet, Stripe, AmazonPayments etc. Keeping abreast with the newer technologies like Bitcoin and adding those on your checkout process won't be bad, right? What'd you say?
8. Keep the return policy smooth
While shopping, customers can have multiple thoughts circling their mind and each one of those has the potential to make them opt out from the check out process. Your return policy could be one of those.
There can be number of reasons for returning a product and you've to be prepared for it. Not that your business will start bleeding but when done right, this can actually be beneficial to your business.
Firstly, you should have easy return policies which are customer friendly. When customers are spending their money on your products, comforting them with an easy return policy is actually going to help your business generate some trust among your customers.
I won't quote the fairly new website name here (let's hope they'll learn about it soon) but I have faced this situation myself when I was about to place an order and I happened to read their policies. It said that if the product needs to be returned, I have to pay for the courier price. I didn't place the order as I had no spare time to go pay for the courier that too, an international one and then keep track of it diligently.
A trick (read strategy) that you can have is to provide free return shipping that too for a longer period of time. That way, your customers feel relaxed and not in a hurry to take any action and they get more time to spend with your product. Who knows after some time they might change their mind and decide to keep it? Good for you, isn't it?
Bottom line: Your customers liked the product and that's why they've ordered but if something goes wrong unexpectedly then they should get some kind of support from you.
9. Manage your coupon code genuinely
This one is a silent killer. Even I search for coupons before I do the payment and I cannot express the annoyance enough when the checkout page starts greeting you with messages like "Sorry! This code is invalid" or "INVALID CODE" or "Code expired" and blah blah!
My message to those sites is either you genuinely manage your codes with other affiliates or by ourselves or you don't keep those at all. Instead, you could adjust your intention of offering coupons with the shipping price and try to reduce that. It can't go that bad.
Even baa baa black sheep had 3 bags full of wool! If you don't have at least one bag full of coupons then just drop the idea. Easy!
10. Add exit intent pop-ups on your website
Did you know about this? If not, then, Dude you gotta check this out.
This is an opportunity for you to reduce cart abandonment with the help of this technology.
This can be installed not only on the checkout page but on any page on your site which detects the moment when a user is about to leave the page. It can immediately prompt the user with a pop-up message which you can customize (or maybe give a coupon code here) and persuade the customer to stay on the deal and purchase from you.
11. Provide real time customer support
Imagine yourself waiting in the queue for an hour only to get ill-treated by the executive behind the cash counter. Like it? I can guess your answer.
Having a good customer support at every step of shopping definitely helps your customers to go through the whole process without difficulty.
Remember when I was talking about wish.com and Amazon? So these guys have a good customer care service. They're just a chat away! Also, they display a message like "we have your back…" at the payment page!
I am like, "yeah sure you better have my back as I am giving away my hard-earned money to you guys."
A good customer support benefits your business by creating trust and belief making the purchase process a very comfortable and relieving one, not to forget the after sales scenarios as well.
There is no limit to creativity and you can use it to reduce shopping cart abandonment on your site. Here are few bonus pointers just in case you aren't doing it.
Keep displaying the item count over the cart icon once a customer have added something.This will always remind your customers about their pending action.

Make your checkout process blazing fast.

Show remaining number of units from your inventory nearby the product in view so that users will know if there are few units left and that they need to check out soon before stock clears.

Hire some Ninjas and make product delivery real quick. Nobody likes to wait.
So what's on your mind? Apply all of these pointers to your site and I do believe that your shopping cart abandonment rate would lower and you'll soon be viewing that silver lining. So, get set, ready and GO!