Blogging for beginners
Want to know more about how to start writing a blog? 
Look no further, because we've created the definitive guide on everything you need to know about getting started on your new blogging adventure.
10 steps to starting your blog 
To make the information easier to digest, we've arranged the content into segments so you can scroll down for details most relevant to you. Jump to focus topics on blogging or start from scratch with what you'll need to do first. We cover 10 basic steps to launch your blog successfully, engage readers and keep them coming back for more.
Step 1 – Determine your blog's niche
You may already have a subject matter in mind for your blog, which is great news. However, it's always worth doing some research on the area before you put the metaphorical pen to paper.
Here's two tips for selecting the right topic for your blog:
Check out the current scale of the niche area you would like to target and spend time studying the competition.

Consider the potential your topic has so you can monetise your blog effectively (if that is one of your ambitions). Is it a popular subject? Is there something unique you are saying that is also engaging? 
As well as writing in a creative and charming style, it is super important to ensure that the subject area of your blog is right for you and for your prospective readers. There are a number of considerations here. 
Firstly, you need to choose an area that you are both knowledgeable and passionate about. If the niche you select doesn't interest you, you will find it difficult to motivate yourself to write and upload regular content, and this will obviously impact on the success of your blog.

Secondly, you need to do plenty of research to ensure that the subject you wish to write about will have a big enough audience. Take a look at the most searched for topics and let that help to guide your decision. Be careful to add your own slant if it's a popular area though, you want it to stand out, and not get lost in a deluge of similarly angled blogs. Look at what competitors are offering, and how many of them are out there. 
Once you have decided on the specific area you are going to focus on with your blog, you will need to choose an appropriate name. Often people incorporate an aspect of their name, along with a word or phrase which encapsulates the theme e.g. 'Martin's Namibian Journey'. You may wish to incorporate a play on words to bring a sense of creativity or fun but be careful to make sure that it is still clear what your content will be about.
Read: Tips on how to name your blog
Step 2 – Decide on the best platform 

Once you have decided on the name and focus of your blog, you'll need to decide which type of platform you are going to use. WordPress is by far and away the market leader in terms of Content Management Systems. It enjoys 64.2% of the global market share and powers almost 40% of websites overall. It is the platform of choice primarily because of its user-friendly nature and flexibility, giving the creator complete control over their site, using their own domain name. 
For this reason, it is highly recommended that beginners use WordPress to platform their site. To do this, you need to decide on two pivotal things, a web hosting company and a domain name, which we will go on to look at more closely.
Hosted platforms
Sites such as Tumblr.com and Wix.com are hosted platforms and are appealing to beginner bloggers with Tumblr one of the most popular, boasting 496.1 million users. Wix has around 180 million users as of 2020, However, there are more limitations with using these sites to host your blog for you. You will be restricted to abiding by their terms and conditions and operational rules. Your blog will also be titled as a subdomain, for example, 'blogtitle.tumblr.com' rather than a self-hosted option like WordPress which you can name 'blogtitle.com. The good news about the hosted option is you can get up and running almost immediately.
A self-hosted platform 
By default, self-hosting generally means using WordPress.org. The WordPress software itself is free to use and gives you complete control over your site and its contents. With this option you are free to choose your own hosting provider, but there is no centralised support. The costs arising will be a few pounds a month for the webspace and a nominal fee of around ten pounds annually for your domain name. This is arguably the best way to operate for maximum control of your site, especially if you want to sell products and services and run advertisements on it as an extra revenue stream.
Is it expensive to start a blog? 
At this stage you might start to think about costs. Although WordPress software is free at the point of installation, there will be a small monthly fee to host your custom domain name on the web. These services are offered by a number of hosts and there is some variation in price, but it shouldn't set you back more than about £80-£90 a year and, being a competitive area, there are some excellent deals on offer. 
UK based hosting service www.ukhost4u.com is currently offering an impressive 21% off its web hosting fees for 2021 (Code 23OFF). They offer a range of tailored solutions, including the recommended WordPress hosting service, at just six pounds a month or sixty pounds for the year. Here is a breakdown of what that package entails:
1 WordPress website

10GB SSD storage

Unlimited Email accounts

Let's Encrypt included

High availability

WordPress Migration

Backups
Step 3 – Acquire an appropriate domain name 

Once you have considered which platform is best for you, it's time to choose the best domain name. This is really important, and here's why: 
A domain name helps visitors find you easily on search engines. For example, if you are a kilt-making business, a domain name like buyyourkilt.com will be more discoverable on search engines as it uses some of your keywords. 

A strong domain name gives your company credibility. It adds a professional dimension and creates a good first impression. If you use a free web hosting service your full domain name will not be our company name.

A domain name can help you build your brand effectively. If it is the same name as your company, it will help customers remember you more easily too.

Once you have purchased and own your own domain name, it's yours. You can swap hosting companies and you can even put it on your company's own server if you have one. 
Once you have chosen your domain name, it will in effect, become your online name. You will be found easily by your audience when they type in the memorable URL or look for you in search engines. 
Choosing a domain extension is also important. If you run a not-for-profit organisation .org works well and .com is usually preferred for commercial setups. You can also opt for a .net or a .blog, depending on availability and personal preference. 
What do I pay for a domain name? 
The average you will pay for a domain name is somewhere between $8 – $16 annually. You can also buy existing domain names. This is often an option if there is a very desirable domain name for a given industry or sector. Domain names that have expired are also buyable. 
Read: How much does a domain name cost.
Step 4 – Choose a web host 

Choosing the best hosting service provider is the next crucial step as these providers store the data and content of your site. You need a service that allows your blog to be accessible 24 hours a day, offers maximum safety and is high speed in order to prevent users from getting turned off by lagging issues. 
What makes a good hosting service? 
There are a number of areas to consider to ensure the continued performance of your site. 
Speed

– the speed of your site has a number of determining factors, including the infrastructure of your site, how it has been developed and hosting. Search Engine Optimisation uses speed as a ranking factor, so the speed is important from a usability point of view as well as search visibility. Users can be put off with slow speeds, and quickly turn to other available sources.

Technical support

– this is important as oftentimes, website owners do not have the technical skills needed to make important changes.

Security

– when choosing a provider, make sure safety is the top of your list, with an

SSL security certificate

( a data file hosted on a site's server). A quality hosting provider will ensure there are a number of different security layers supplied to maintain safety. In addition, Google prefers pages that are secure and protected from hackers. 

Availability –

the uptime of a site is crucial to the success of a blog. If your site is not available at any given moment a user may choose to find you, you can lose that visitor or visitors permanently if your content is not available to view. Below 99.90% uptime is considered low, with 99.99% considered high.
All of these factors contribute to the performance of your website, the more you can tick off, the more likely you will increase audience engagement.
Read: How to choose a good hosting provider 
Step 5 – Set up your WordPress blog

WordPress is again the most popular choice for website builders with millions of people using it all over the globe. Over 30% of websites are powered by WordPress. It's easy to use and highly customisable, along with popular themes and plugins for tailoring. 
Below is the step-by-step process of setting up with hosting service UK Host 4u and how to install WordPress for your blog. 
The packages have a number of different features including: 
Visit

UK Host 4u

Choose which package you would like. You can choose from:
Professional

– for £6 per month or £60 per year you will get one WordPress site, 10 GB SSD storage, unlimited email accounts, Let's Encrypt, WordPress Migration and Backups. 

Business

– this package costs £14 per month or £140 per year. For this you will receive 10 WordPress sites, 20 GB SSD storage, Let's Encrypt, unlimited email accounts, WordPress migration, Backups.

Agency – £28 per month or £280 per year will get you 25 WordPress sites, 100GB SSD storage, WordPress migration, Let's Encrypt, unlimited email accounts, backups.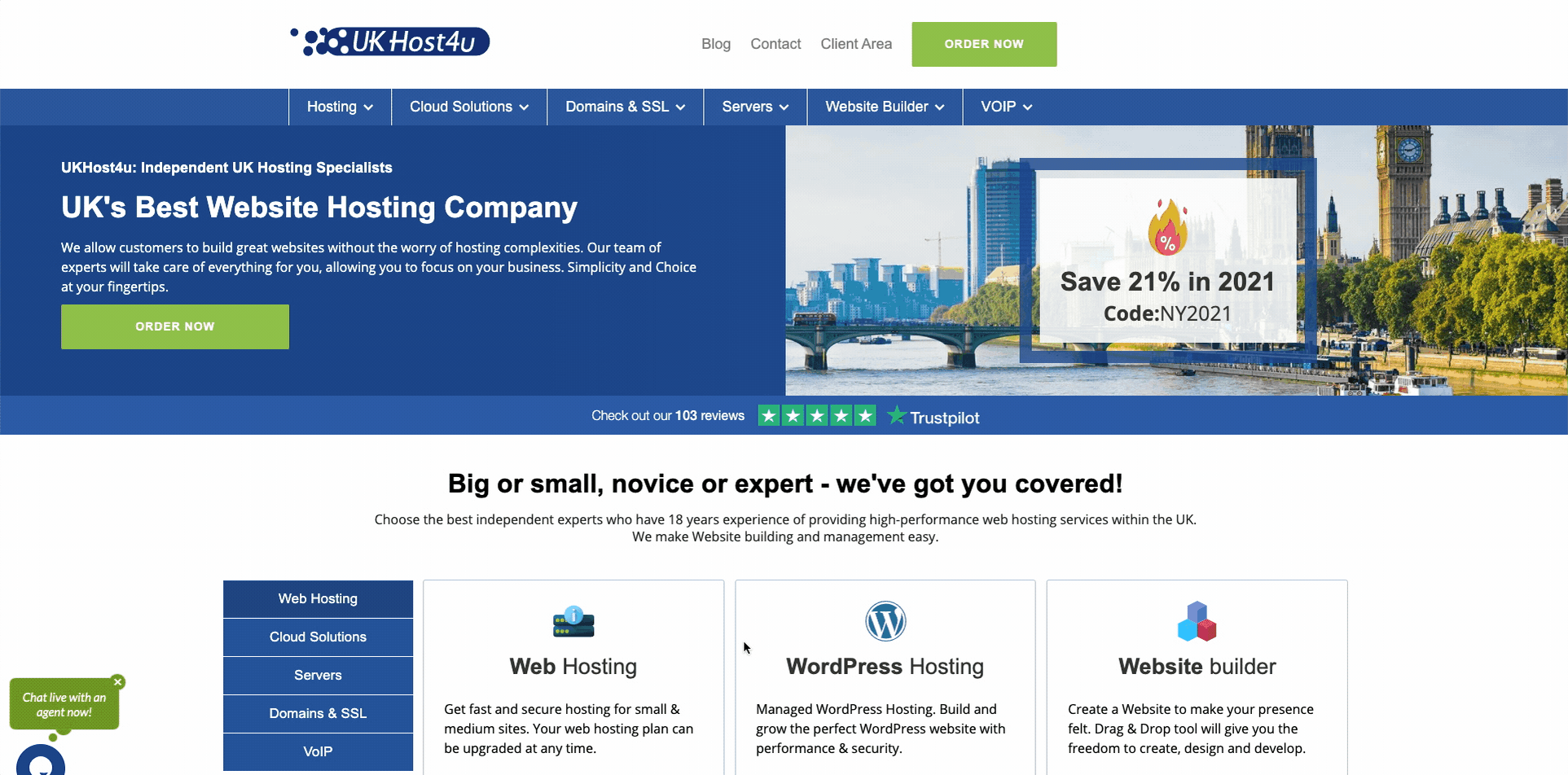 Click on 'buy here'

You will be taken to a page where you will be asked to register, transfer or use your domain name. 

Once you have chosen, click the green 'continue' button at the bottom of the page. 

On the next page, choose your payment plan (monthly or yearly). You will be given a payment summary on the right once you have chosen.

Pick your domain configuration on the next page by completing the required fields. 

Complete the personal details and billing information on the next page.
Step 6 – Create a theme and personalise your page 

The next step is the more creative theme creation! This step will give your new blog a real sense of identity and is the first thing your readers will notice. Installing a new theme is a simple process on WordPress. Go to the dashboard, click on 'appearance' then 'themes' – you will be presented with a series of screenshots (themes) of site designs to choose from. In total, there are over three thousand themes available! 
Your blog needs to function well, as well as look good. Below are a few tips on how to get the right theme:
Underneath each theme, there is a 'preview' button. Make sure you click on this to see what the theme would look like in full and to what extent you can customise it.  

When you click on 'preview' there will also be a description of the template on the left-hand pane. Read through this to see what features and functionality are available with a given theme.

Ratings are also given here so it's always good to have a read through those before you commit to a theme.

Once you have chosen a theme there is still work to do to get it looking exactly as you want it. 
Should I pay for my theme? 
There are many free and paid-for options for WordPress themes. For beginners, or for a personal blog, a free theme usually works fine. Premium paid themes are available if you wish and are often chosen by small businesses. The price for a single-use license for a theme can cost anything up to $500.
*Don't forget, you can also pick a different theme after if you don't like the initial one you have chosen as all your data can be transferred. 
Read: Free Vs Premium Themes 
Customising your blog theme
Once you have picked a theme you are happy with, you will be able to customise as you wish from your WordPress dashboard. There are too many different customisation options to mention for WordPress so we will cover the basics here. We will use the Entex template as an example. 
First of all, go into your dashboard and click 'appearance' then 'customise'. You will be taken to a page with the below bullets on the left-hand side of the screen. 
Entex layout –you can edit background and logo colours via this button. 

Site identity – here, you can upload your logo from either your media library or from another directory or source. You can also change the title of the site and tagline.

Menus – this button takes you to the area where you can reconfigure the location of your menu and social media links. 

Widgets – this is where you can add in widgets such as calendars and clocks for your sidebars and front page. Different themes have different widgets available. 

Homepage settings – edit what you would like to appear on your homepage here, you have the option to include your latest posts, for example. 

Additional CSS

– this is an advanced option that allows you to apply more advanced coding (a code that styles web content) 
Plugins for bloggers
Another feature that will help you style your blog to perfection is plugins. There are lots of plugins you can choose from within WordPress. As the name suggests, a plugin is an add-on that allows for additional functions. The program isn't changed, as plugins are more appendages so are great for editing your blog just how you want it to look and function. 
Most plugins are free but there are ones available which you can pay for too. Does UK Host 4u add in suggested plugins????
Step 7 – Publish and write your first blog 

Now you know the best way to choose a domain name, how to host your site as well as a theme for your blog, it's time to get busy writing. You may have heard the term 'creating content' and this is exactly what you will be doing. Whether that's through uploading video content, taking images, producing infographics or writing articles. The common denominators here are that ALL of your content needs to be engaging, useful and/or informative. It also helps if your content is the type that makes visitors want to read on, keep on interacting and come back again for more. 
Main pages of your website 
When using WordPress, you can add more content via 'Pages' and 'Posts'. Posts are used for blogs and pages are for more static content. You will recognise it from being a web-user yourself; most pages fall into the same types. These are: Home, About Us, Contact Us and Products/services pages. Let's break this down to explain more about what content you will need on these pages: 
Homepage – the homepage content is crucial as it is the shop window to your site, whatever its nature. Here, you will need strong imagery including your logo, and/or headline and some useful calls to action to help users navigate well. 
Remember to also include your key value proposition so visitors know straight away what you're all about. Social proof is also a key addition to demonstrate the trustworthiness of your service and/or products. About Us page – this is the area of your site where you get to tell your story. How your blog came about and what your site and content will do for them. Be as engaging and as honest as you can here. Stories sell and this is your chance to shine.  
Contact Us page – A light page containing basic content information to help users easily reach you by different mediums. Here you might want to include a contact form that you can easily create in WordPress, and you may want to add in a phone number, email addresses and social media buttons.
Services/products pages – these pages are dedicated to your key services and products. The content here should include your keywords and explain in a nutshell what they do. 
Creating a new page and post in WordPress
Log in to the Dashboard on your WordPress CMS. 

Move your cursor to where it says 'Pages' on the left-hand vertical menu.

The option 'add new' will appear. Click on this. 

You will be prompted to add a title to your blog post first of all. 

When you have added this, move your cursor to the right where you will see a plus sign.

Click on this and begin adding in a paragraph, image, heading or quote. 

As you move through the process you will be presented with the same plus sign so you can keep on adding content. 

At the bottom of the page, you will see 'Google preview' which will allow you to see how your page will appear on a Google Search result.

To change the preview text simply click on 'edit snippet' and you can write your meta description to help your post be easily discovered. 

When you have finished you have the option to 'save as pending' if you would like to make edits before you publish or 'preview' so you can see what your page will look like to viewers. Alternatively hit 'publish' if you are happy with the final version. (all these buttons are found on the top right of the screen). 
Creating a new blog post is virtually the same as creating a page. The difference being that blog posts have an official publish date assigned to them and as pages are considered timeless content, they don't. You can also attribute tags and categories to blog posts to help differentiate them more easily. For instance, you can put all your top tips posts in one category and news pieces in another. Conversely, pages are organised by grouping pages together using parent/child titles so certain pages clearly 'belong' semantically to another page on the site. 
How to write a perfect blog post 
Your first post usually works well as an introduction telling the story of how and why you are creating a blog. A human-interest story is often appealing to audiences when it is relatable, there are challenges included and a goal or aim clearly defined. 
Crafting your blog copy – 10 tips
Creating your first post can feel a bit daunting. You want to get it right first time and set the scene and tone of your blog all in one go. Don't think too much about what you will write, simply start writing and you can edit at will later. Below are tips on what you should bear in mind at this stage: 
Give your readers what they want

– most of the time, visitors are looking for something after arriving on your site. The trick is to not make this a game of hide and seek. Make the information they seek obvious and readily available. 

Make your content logical

– you can achieve the above by ensuring your layout makes sense. Put the most relevant information at the top of your post and in the mind's eye of your reader. If it's a story, include the who/why/where/what how information at the beginning, preventing readers from having to sift down the post to find the critical details. 

Use the active voice

. On WordPress you will be given an SEO score at the bottom of your post. Within this feature, you will be given a 'readability score' indicating how well your readers will be able to digest your content. One of the criteria for readability is use of the '

active voice'

in copy. This is when you use action words instead of the passive voice. For example, instead of writing: 'the goat was fed by Peter' (passive) use 'Peter fed the goat' (active). Writing in this way will help improve your readability score. Also, see our WordPress SEO Guide.

Again, in terms of language, your content proves more engaging when you refer to your audience as 'you' and if you do not try to use complex vocabulary. Keep your sentences relatively short and your words simple. Imagine you are speaking about the product and not writing an essay. 

Use paragraphs to break up chunks of text. There can be nothing more off-putting than looking at reams of words ahead of you. It can turn readers off so much that they stop reading your blog. Use images and highlight quotes to help emphasise points and keep your content in digestible bite sizes. 

Do some keyword research. Despite the emphasis on the importance of keywords dwindling over recent years, they are still very relevant for your blog's SEO success. Tools including

Google's Ad Keyword Planner

is helpful when looking for the keywords and phrases relevant to your blog. 
Step 8 – SEO optimisation for your blog 

Search Engine Optimisation (SEO) is the process of optimising online content to ensure it performs well in search engine results and is easily visible to audiences. It's difference from Pay-Per-Click (PPC) where content is paid for to drive traffic to websites and is paid to a publisher from an advertiser. 
As the name suggests, organic is a word to describe something that builds over time, in an SEO sense, it is also something that incorporates a series of rules and methods. According to an article in Higher Visibility, 53% of web traffic comes from organic searches and mobile devices make up for 56% of organic searches.
Read: SEO Vs PPC – are you making the most of them? 
You can take advantage of SEO in a number of different ways to help your new blog rank well. 
Keyword optimisation

– as already discussed, keywords are still relevant for search and producing a keyword research plan before you write your content is valuable. Every blog post you produce should have the basis of keywords behind it. For example, if you want to write a blog about 'how to unblock a sink' you will need to think of all other related terms around the topic that people could search for. For example, 'my sink is blocked'; 'draining water from a sink' 'how do I unblock a sink naturally?' 'Can I use bleach to unblock my sink?' – adopting these terms and search queries will allow search engines to understand fully what your post is about when they crawl it – giving it a higher giving it a better chance of ranking well. 

Using meta tags

– Each time you publish a new blog post, you will need to include tags. Examples of these tags are the title and description tags. Again, this helps search engines appreciate more what your page is about. The title tag appears in search engine results for viewers to see what an article is about, and the description sits underneath for a more detailed explanation. This description copy needs to be written in the active voice, incorporate keywords, be kept to around 155 words, should reflect the content and should also be unique and include calls to action. For example: 'Discover more about how hares survive winter in Scotland in our latest interview with the Scottish Countryside Rangers' Association'.
SEO tags are crucial to SEO success and really simple to incorporate into your new blogging process. You can also use the Yoast SEO to add in your meta tags – some of these are free in WordPress.
Step 9 – Promoting and marketing your blog 

By the time you have learned how to set up your blog, create fantastic content and know about optimisation, you can start improving your blog's reach. This means shouting about it from the rooftops, starting with those obvious ones – friends and family. Get them to actively engage by commenting, liking and sharing your posts. As new people see your blogs, established engagement will encourage them to also engage.  
Before you start….
*Remember, before you start promoting, it's also useful for a friend or family member with a discerning eye to comb through your site looking for errors you may not see. At this stage you can also test that all your buttons work, and have it tested on different devices to see how the content is displayed. Finally, set up Google Analytics so you can track how your site is doing and use this essential feedback to formulate further success with your blog in the future. 
Initial tips for promoting your blog: 
Put the URL of your blog in your email signature so each time you send an email the recipient can click on your blog's link.

Include the blog link in your social media communications and posts.

Join discussion forums relevant to your blog's niche. 

Join other blog forums and social media sites where you can connect with others in your field/industry.

Make sure you comment constructively on these blogs too. 

Try guest blogging, a great way of building your online presence and gaining some authority in your chosen area. Reach out to other platforms and ask if they would like a contribution from you. Ensure you stay on topic and true to the values and opinions of your own blog. 

As well as guest posting, you can take your presence and contribution to other platforms one step further by approaching ones with a large following relevant to your specialist area. 
Outreach content tips: 
Repurpose content

– this is a very economical way of producing unique content. For example, if you have some existing written content on the subject of 'how to play Fur Elise' on the piano, you can recreate this into 'how to' video content for another platform that supports that particular kind of media. That way, you do not have to think of a new idea, simply reformat. Here's a helpful link to some

repurposing content ideas

. 

Bookmarking sites

allow you to submit the content of your blog to potential audiences. Users save and share links on a variety of subjects they think others will be interested in. For example,

Reddit

,

StumbleUpon

and

Digg

are all bookmarking sites.  

Republishing your content

– as well as a full repurpose, you can also use your existing blog content on other platforms, for example, LinkedIn. It helps if this has been slightly altered to tailor to the specific audience, but essentially this is a less time-consuming way of promoting your blog. Ensure you put the content on your blog first of all, then wait several days to allow time for Google to index it on your blog first. Include a link to the original published content in your secondary platform (i.e. LinkedIn) too. 
PPC advertising 
As mentioned earlier, PPC is an alternative or additional way of promoting your blog, or anything else online. Also referred to as paid traffic, this process can help you control the timing of your promotion. 
Examples of paid for traffic mediums:
Social media platforms like Facebook, Instagram and LinkedIn all allow for you to advertise. Depending on your audience, you can choose one or a combination of these, always remembering to tailor your content according to the specific readership of that platform. 

You can also use Google AdWords, Bing Ads or Microsoft Ads for your PPC campaign. 
How does PPC work?
PPC is a promotional model that works by advertisers paying each time one of their online ads is clicked on. Only paying when an ad is clicked on. Advertisers bid for placements on sponsored links as someone searches for given keywords that are relevant to their business. The idea is that the visit from a new user is worth the fee the advertiser pays. Ahead of a PPC campaign, there will need to be well-researched keywords and a landing page set up to measure conversion rates produced by the campaign. The quality of your campaign determines the amount you pay. For example, if your ads are proving successful, then you will be charged less per click for your campaign, so it's worth spending time getting it right in the beginning.
Create a member email list 
As you see your blog following grow, consider setting up a subscriber list to keep your audience informed and aware of any new offers, content or promotions you have coming up. Start as you mean to go on by asking users who already share an 'ask for notifications' of your posts, to supply their email address.
Making money through your blog – how to do it 
Monetising your blog means transforming the success of your blog into money but this shouldn't be your key motivation. The main focus should always be on attracting and engaging your audience as fully as possible. By nature, this will convert well financially too. 
However, while you are in the midst of creating new content, consider what you think will be able to help you generate income. What are the best kinds of content you can create related to your niche subject? How can you align them in terms of the style and structure to make them more appealing, digestible and read-worthy?
Here are some of the most popular types of written blogs to help you stay appealing to your audience: 
Top tips or listicles are a really popular format for sharing content.

Tutorials on how to do something with a product are super popular, for example, unboxing on YouTube can answer so many questions on a product. 

Straight forward product reviews help searchers learn new things about a product or compound what they already know really simply. 

Product comparisons work well too for consumers who are undecided about what they need to purchase.
Running ads on your site
The first and most obvious way is to run advertisements on your own site. You have a few options here; you can either have ads that are relevant to your niche, or not. You can also choose from a number of different advertising platforms, including Google AdSense or Adthrive, for example. 
You will need to put ad code directly onto your website and the advertising program will fill that space while you make money from the people visiting your site. You don't have to do anything as in the case of Google AdSense, Google will do all this for you using targeted ads and improving the user experience for you. Google auctions off your ad space for people who are using Google AdWords. All this happens in a matter of seconds and all is conducted through technology – you don't have to lift a finger.
Using affiliate programs 
Affiliate marketing means working with retailers to see their products on your site and receiving a commission for each sale. The rates work out higher than advertising but you will need to ensure you have a high level of traffic consistently in order to receive a decent amount of revenue from this source. It's also advisable to let your readers know that you use affiliate links on your blog. Check out Amazon Associates and ClickBank for affiliate schemes.
Produce an e-Book 
As a blogger, you will be used to writing, so creating longer content in the form of a book can be seen as an extension of this. It's also a way you can earn more revenue from your blog, if you sell some of your content as a product. Using plugins such as WooCommerce ( for use with WordPress) will help you to start selling your content products.
Selling sponsored posts 
Advertisers are often happy to pay a fee for placing a post on your site. The sponsored post will promote a product or service from that advertiser. As you build your blog and populate it with regular unique, engaging and useful articles and resources, you will be able to demand a higher fee for sponsored posts. 
Summary
To summarise this blogging guide for beginners, it's crucial that you do your research from beginning to end. Find out what to talk about, find out who will host your site, what content management system is best for you and your blog's needs and stay consistent with high-quality content. If you find we haven't covered everything, take a look below at some of the FAQs around blogging for beginners. 
Step 10 – FAQs before you begin your blog 

Why should I start a blog? 
It's crucial that you sit still with yourself for a while and really get to the root of why you are setting up your own blog. If you are doing it purely for financial gain, you may start to feel impatient early on. It takes time to build blog content and successfully monetise it. If you feel strongly about the content and there is passion behind your message then this will go a long way in your blog's future success. Your passion will come over in your copy and your content will be all the more engaging. Are you setting your blog up to get an important message across to people? Using it as a way of enjoying your own writing and testing your online abilities? Are you setting it up with a specific audience in mind? Spending valuable time unearthing some of these questions is an excellent foundation for a brilliant blog!
What should I blog about?
You should blog about something you care about or feel interested in. When you are writing a blog, you will need to produce lots of different types of articles and information around the same subject. Always research your topic and stay abreast of news in your field so you can share your expertise with your audience and stay relevant. Look at the types and styles of blogs that do well and translate what you write about into those styles. For example, according to Content Powered, almost half of all marketers who monitor their results reported content including contests, polls and quizzes are very effective. They also said that more than one-third of users prefer list-based headlines and around half of bloggers writing long-form content said they see better results than shorter posts. Information like this is can make all the difference to how well your blog performs. 
How can I start a blog for free? 
You can start a free blog on many different, popular website builders by setting up a new account. You will need to bear in mind that while this is free, you will have to use a subdomain where the name of your blog will appear as the name of your blog followed by the hosting provider. The URL can project the impression that you are inexperienced which might not be the look you are after. Along with this, there are rules you must follow on the platform (e.g. accepting advertisements) so you will need to take note of these. However, the free service is helpful for getting your blog off the ground. If you are more serious then it's best to find a paid-for option. This allows more control over your content and your domain name too. 
How much time does it take to start a blog?
There is no set time for how long it takes to set up a blog. However, if you're looking for how long it takes to see the results of your blogging efforts, you can estimate around three to sixth months to see some traction. This is based on your inclusion of high-quality content that is posted regularly. 
Can I learn how to use WordPress? 
WordPress is regarded as one of the most easy-to-use Content Management Systems available, with the added bonus that it's great for experienced users too. Many web hosting companies use auto-installers like UKHosts4u does with Softaculous so that makes it even easier to install from the start.
Is blogging still worth it in 2021?
100% blogging is still worth it in 2021. You can still make money from blogging using all the tools and tips we have supplied in this guide. Remember to be relevant and unique. Choose your niche and stick to it with a mix of interesting content that your 2021 audience will be happy to engage with and share. A blog shared by MediaKix reports that there are over 440 million blogs in the world and this number looks only set to grow. People are still thirsty for information and many look to blogs to find out how to do things, what to buy, as well as advice on careers, relationships, pets, parenting – you name the subject! Blogging is still a number one avenue for professional marketers as they know how effective they can be. 
What is the best niche to blog about and make money?
There are some blogs that do better than others when it comes to making more. This is all down to the popularity of the subject. Some of the top blog topics in 2021 are:
Health and fitness

Finance and insurance 

Business and marketing 

Food

Fashion 

Lifestyle 

Travel
Conclusion
As we stated in the beginning, choosing your niche is a hugely important first step when starting out as a blogger. Opting for a topic you are interested in with monetary potential, will bring double rewards. Those rewards will come after you have chosen the right platform, acquired the most appropriate domain name and selected the best web hosting service. The necessary WordPress set-up and theme creation both play big roles in blogging success and deciding how you will monetise and promote it will, of course, make the long-term difference. Don't forget, be consistent and enjoy blogging!