How to Access phpMyAdmin in cPanel
To access the phpMyAdmin from cPanel, simply log in to your cPanel account and click on the phpMyAdmin icon under the category Databases.

You will be redirected to the phpMyAdmin page and see the following:
General Settings
Appearance Settings
Database Server Informations
Web Server Informations
phpMyAdmin Links
What you can do within the phpMyAdmin interface.
First, you need to create a database. (Click here to know more on how to create database.)
Viewing your Databases
To view the databases, just click on the database name on the left pane of the phpMyAdmin homepage or click on the Database Tab on the top of the screen. Once you clicked on the Database, it will show you the structure of the database and then the table names which is the content of your database.

Browsing your Databases
When you have selected the Database, you can browse it by clicking on the "Browse" button under Action (just beside the Table name) while in "Structure" view. Browse view displays the rows of data from your database. Also, you can navigate to different rows of data or pages by clicking on > or >> buttons on top of the table page.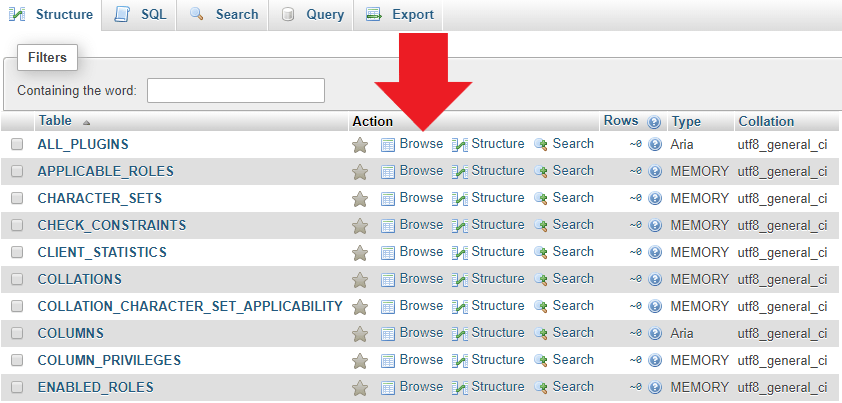 To view the current MySQL processes that are running, you can click on the "Status" Tab from the phpMyAdmin home screen.